Understanding Quest Diagnostics' Valuation Multiple Compared to Those of Peers
Quest Diagnostics trades at a premium multiple compared to Lab Corp of America and at a big discount compared to peers Davita Healthcare and IDEXX Labs.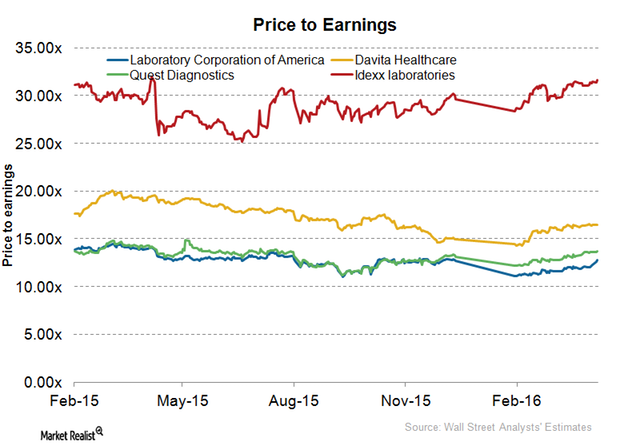 Valuation multiples
On April 26, 2016, Quest Diagnostics (DGX) was trading at a forward PE (price-to-earnings) multiple of about 13.7x. Since January 1, 2016, the company has traded at a PE multiple in the range of 12.2x–13.7x.
Quest Diagnostics is currently trading at a premium multiple compared to Laboratory Corporation of America Holdings (LH) and at a significant discount to peers Davita Healthcare (DVA) and IDEXX Laboratories (IDXX).
Article continues below advertisement
Article continues below advertisement
The new rule
On September 25, 2015, the CMS (Centers for Medicare and Medicaid Services) proposed a rule related to MCLFs (Medicare Clinical Laboratory Fee Schedule) under PAMA (Protecting Access to Medicare Act) of 2014. The rule requires clinical laboratories to report the payment rates they charge to commercial health insurers.
A report by Department of Health and Human Services has claimed that in 2011, in the case of certain tests, Medicare payment rates to laboratories were higher than those paid by private insurers by about 18%–20%. Hence, from January 01, 2017, CMS plans to set the Medicare reimbursement rates to laboratories in line with those of private health insurers.
If this rule becomes effective, it's expected to adversely affect the profit margins of the entire clinical laboratory industry. With Medicare accounting for about 14% of Quest Diagnostics' net revenues in 2015, investor sentiment for the company has already been weak. This has culminated into low share prices and valuation multiples for the company.
PAMA progress
In March 2016, a small minority (27 members) of the US Congress moved to block the implementation of the MCLF under PAMA. Industry associations such as American Hospital Association and the American Medical Association believe that the rule could be updated based on the opinions of various hospitals.
If the delay continues, it should prove beneficial for Quest Diagnostics' profits. This could also boost share prices of the Health Care Select Sector SPDR Fund (XLV). Quest Diagnostics makes up about 0.41% of XLV's total portfolio holdings.
Now let's explore Quest Diagnostics' revenue growth strategy in 2016.