Why Quest Diagnostics' Five Point Business Strategy Matters in 2016
If Quest Diagnostics succeeds in implementing its five-point business strategy going forward, it should boost the company's share price and USMV.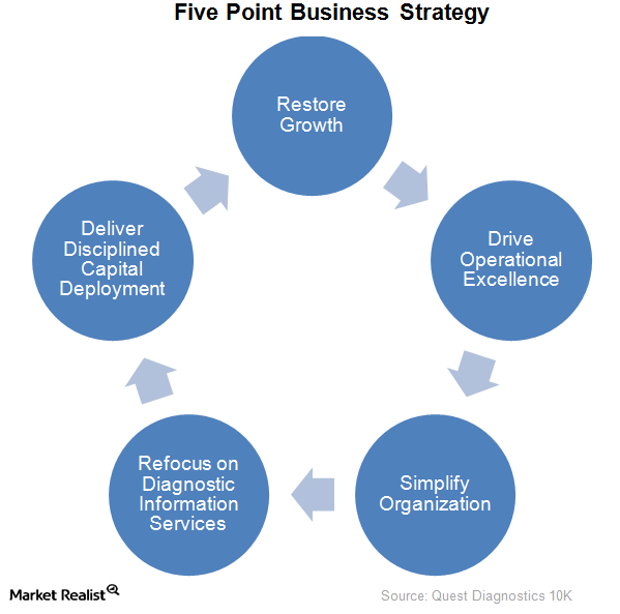 A five-point business strategy
Introduced in November 2012, Quest Diagnostics' (DGX) five-point business strategy has been instrumental in driving the company's progress toward its vision and goals.
Article continues below advertisement
Article continues below advertisement
Growth restoration
Quest Diagnostics is focused on exploring these key opportunities:
increasing penetration in profitable markets such as esoteric testing and precision medicine
expanding in international markets
deploying data and other technologies for ensuring sustained competitive advantage
This strategy is expected to help DGX prove a tough competition for peers like Opko Health (OPK), Laboratory Corporation of America (LH), and IDEXX Laboratories (IDXX).
Operational excellence
Quest Diagnostics realized cost savings of about $200 million in 2015 from its Invigorate Cost Excellence program. The company continues to implement this program in 2016 to boost operational efficiency and to improve the consumer experience. Quest Diagnostics has also introduced efficiencies in supply chain management through its Pathfinder software platform. The company operates Quest Connect self-service portal to accelerate the speed of client service.
Article continues below advertisement
Simple organization
Since 2012, Quest Diagnostics has been striving to create a lean management structure. The company uses its Quest Management System for daily management of activities and includes tools for developing new capabilities in the company.
Diagnostics Information Services
To increase its focus on diagnostics information services business, Quest Diagnostics has exited its HemoCue Point-of-Care Products business, its ORALDNA Salivary Diagnostics business, and its Enterix Diagnostic Products business. It has sold off its royalty rights for Ibrutinib.
The company plans to sell its Focus Diagnostics business to DiaSorin SpA by 2Q16. Quest Diagnostics also participated in clinical trials in a joint venture, Q2 Solutions. The increased focus on Diagnostics Information Services has enabled the business to grow at compounded average growth rate of about 3% between 2013 and 2016.
Capital deployment
Quest Diagnostics plans to create value for shareholders by effectively deploying capital for both organic and inorganic growth. The company also aims to return capital to shareholders through dividends and share repurchases.
If Quest Diagnostics succeeds in implementing its five-point business strategy going forward, it should boost the company's share price and the iShares MSCI USA Minimum Volatility ETF (USMV). Quest Diagnostics makes up about 0.21% of USMV's total portfolio holdings.