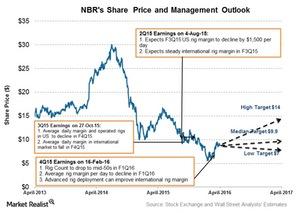 What Does Nabors Industries' Management Expect in 2016?
By Alex Chamberlin

Updated
What does Nabors Industries' CEO think?
Nabors Industries' (NBR) management expects the rig count and exploration and production activity to fall more. In the fiscal 4Q15 earnings conference call, Nabors Industries' chairman and CEO, Tony Petrello, commented that "Our near-term visibility in this market remains severely limited. We remain focused on customer objectives. We recently surveyed approximately 25 lower-48 customers, representing 35% of the rig count. In the next six months, one customer expects to increase activity, five are flat, and the rest are down. The survey indicated approximately a 25% drop in rig count over the next six months. In international markets, customers are challenged by the current environment."
Article continues below advertisement
Nabors Industries' estimates for fiscal 1Q16
The company's rig count could drop to the mid-50s compared to 68 in fiscal 4Q15.
The average daily rig margin could decline below the $7,000 level compared to $14,229 in fiscal 4Q15.
In its international operations, Nabors Industries' average daily rig margin could remain steady.
Analysts' targets 
While analysts' lowest target price for Nabors Industries is $7, the highest is $14. The median target price, surveyed among the sell-side analysts, for Nabors Industries is $9.95. Currently, Nabors Industries is trading near $8.6. This implies 16% upside at its median price. Oil States International (OIS) is Nabors Industries' peer. It received a $29.5 median target price. Relative to its current price, this implies 2% returns. Weatherford International (WFT) received a $9.1 median target price. Relative to its current price of $7.16, this implies nearly 27% upside. Halliburton's (HAL) expected return over the next year, relative to its current price, is 19%. Nabors Industries accounts for 0.03% of the iShares Core US Value (IUSV).
Next, we'll discuss Nabors Industries' revenue and earnings.