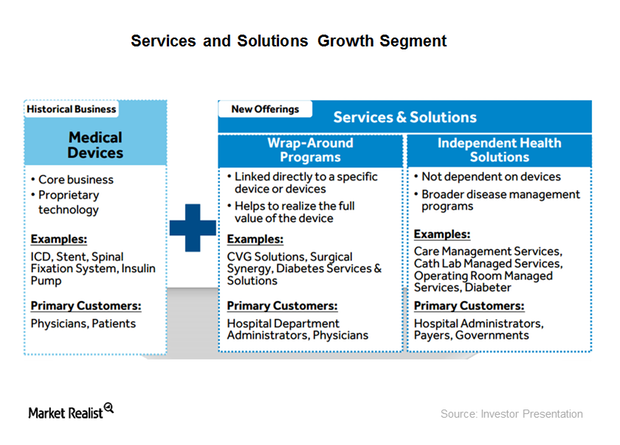 Why Medtronic Is Diversifying beyond Medical Devices
Overview
Medtronic (MDT) is the largest player in cardiovascular device segment. It's the largest pure-play medical device company in the US. However, with changing industry dynamics, the company started to strengthen its position beyond medical devices. Since the healthcare industry is moving toward value-based models, it's important for medical device companies to offer services and solutions that can provide the full value of the product to the customers. Medtronic established a services and solutions growth vector as one of its core strategies. It contributed ~20 basis points to Medtronic's growth in 3Q16. Although the contribution remains subdued compared to the expected targets of 40–60 basis points, the company remains focused on expanding its business model to include all of its business segments.
Article continues below advertisement
Article continues below advertisement
Services and solutions offered
Medtronic offers Care Management Services to hospitals and other healthcare providers for cardiac patients. It enables efficient care and early recovery. This leads to cost reduction. Medtronic's Care Management Services are being used by more than 85,000 patients across the US.
Medtronic's Hospital Solutions business provides operational expertise and administrative management of cath labs and operating rooms. It exhibited revenue growth rates in the mid-thirties in the fiscal 3Q16. The business generated more than $1.7 billion in revenue after six years of operations. Medtronic is leveraging Minimally Invasive Technology Group products and related expertise for the expansion of the hospital solutions business in operating rooms. The company focuses on leveraging cross-business expertise to enhance efficiencies and productivity.
In 2015, Medtronic acquired Diabeter. It's a diabetes research center and clinic based in the Netherlands. The acquisition will expand Medtronic's services and solutions across its diabetes business segment.
Other medical device players including Becton Dickinson (BDX), Abbott Laboratories (ABT), and Baxter International (BAX) have also been making efforts to shift their business models towards value-based healthcare. They establish a strong sustainable market position in the changing healthcare industry. Investors can invest in the SPDR S&P 500 ETF (SPY) for exposure to Medtronic. SPY holds ~0.6% of its total holdings in Medtronic.