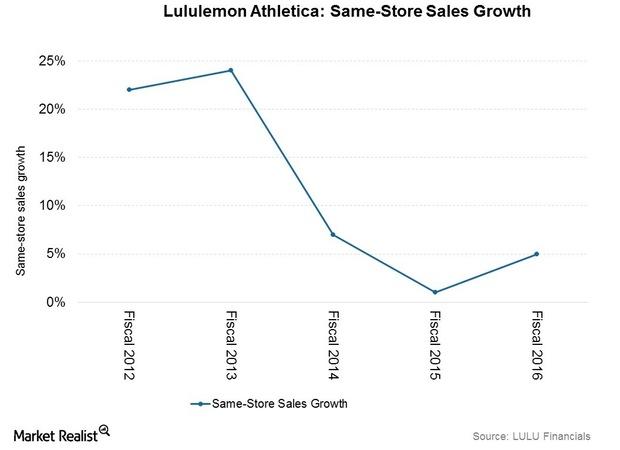 Lululemon's Revenue Spikes in Fiscal 2016: What's Driving Sales?
Lululemon opens new stores
Lululemon Athletica's (LULU) revenue grew by 14.7% year-over-year to $2.1 billion, a new milestone for the company. In fiscal 4Q16, Lululemon's sales grew 16.8% to $704 million.
The company opened 61 net new stores in the year, including nine in the fourth quarter. While most of these were in the United States and Canada, it also opened eight stores outside North America during the year. The company also opened a new larger-format flagship store (RTH) (XRT) in New York. Of the 61 net new store (XLY) openings, 49 were in the United States, three were in Canada, four were in the United Kingdom, two were in Hong Kong, one each was in Germany, Puerto Rico, and Singapore.
Article continues below advertisement
Article continues below advertisement
Lululemon posts earnings results ahead of guidance
LULU's results in the fourth quarter and in the fiscal year also benefited from the upbeat performance in the holiday selling season. As a result, Lululemon beat its own previously released guidance. In January, LULU had raised its earnings and revenue expectations for the fourth quarter and fiscal 2016 on the back of strong product demand in the 2015 holiday season. The company had projected a revenue range of $690 million–$695 million in 4Q16.
LULU's sales during the quarter benefited from the launch of new and innovative fabrics. Products delivering upbeat numbers during the fourth quarter included apparel from the newly launched pants wall and men's training products. Comparable store sales for pants grew at a double-digit pace in the fourth quarter, while men's products delivered a 24% comp (comparable) in the quarter.[1. based on comments by Lululemon Athletica's CEO (chief executive officer) Laurence Potdevin]
E-commerce sales
Overall comps grew 5% in fiscal 2015. In contrast, sports goods retailers Foot Locker (FL), Dick's Sporting Goods (DKS), and Finish Line (FINL) reported comp growth of 8.5%, -0.2%, and 1.8%, respectively, in their last fiscal years. LULU's e-commerce business saw a sales growth of 25% in the year.
In the next part of the series, we'll look at the company's e-commerce performance in greater detail.