Inside Ralph Lauren's Licensing Business
Ralph Lauren earns royalties from licensing the use of its trademarks or the right to operate stores to third parties for apparel, eyewear, and fragrances.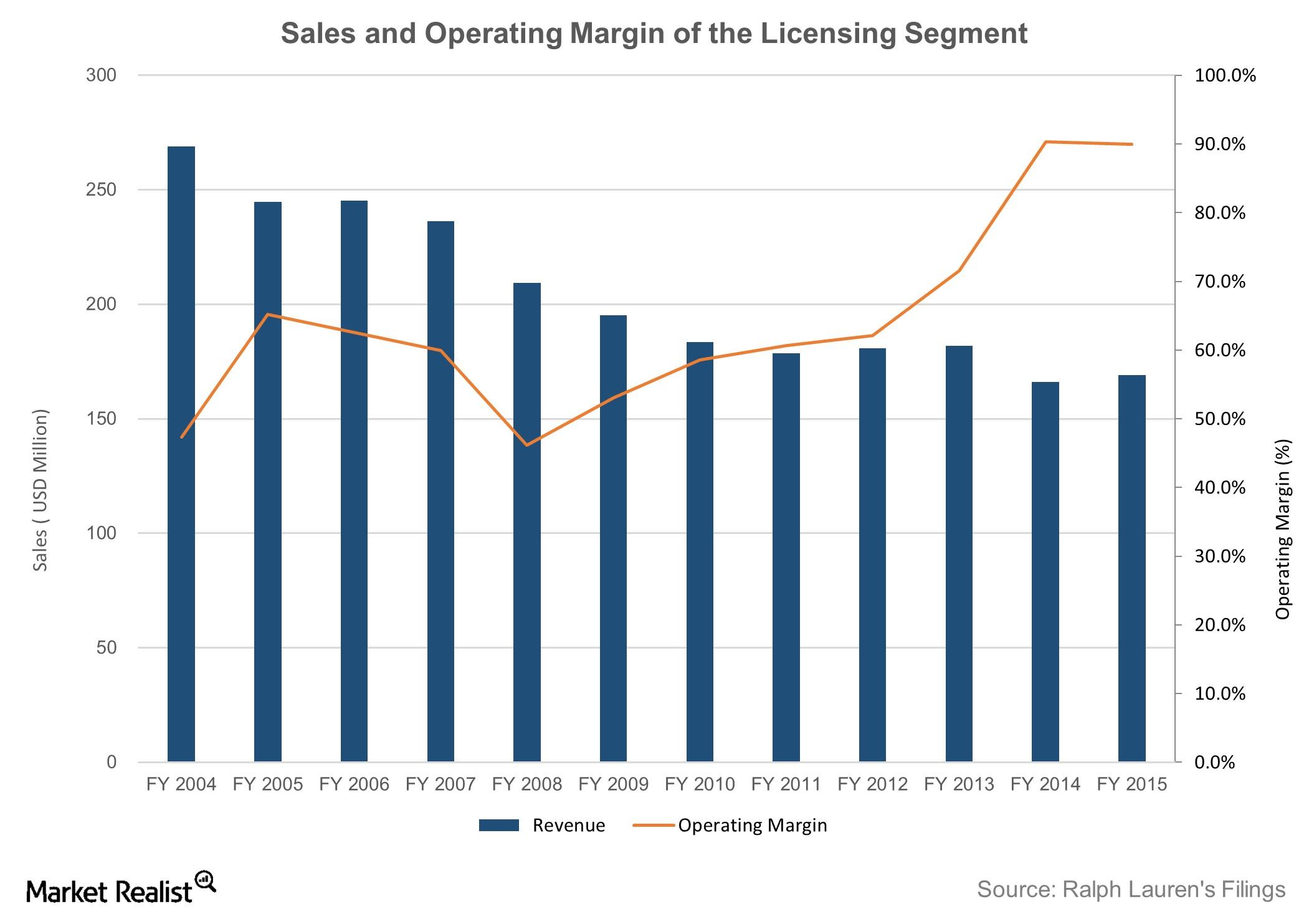 Ralph Lauren's licensing revenue
Ralph Lauren (RL) generates royalties based on revenue from licensing the use of its trademarks or the right to operate its stores to third parties for certain apparel, eyewear, and fragrances. Luxottica Group, L'Oréal, Peerless, and HanesBrands (HBI) are Ralph Lauren's top revenue-generating licensing partners and accounted for around 44% of RL's licensing revenues.
Article continues below advertisement
Article continues below advertisement
Licensing: only a small part
RL's Licensing segment contributes a relatively small part of the company's overall sales, however, and its contribution to the top line has continuously declined over the years. While the company generated around 10% of total revenues from this segment in fiscal 2004, the contribution of licensing came down to only 2% in fiscal 2015. This decline in revenue has been a result of the company's increasing focus on directly owning the licensing businesses in order to have a direct control over its brands.
In 2006, Ralph Lauren integrated its formerly licensed footwear and handbags and small leather goods businesses into directly operated segments. Since then, the leather goods category has displayed an impressive performance and has grown at an average of 20% annually.
More recently, the company acquired the Chaps Menswear Business and the Australia and New Zealand Business. Chaps Menswear was acquired from Warnaco, a subsidiary of PVH Corporation (PVH) for $18 million in April 2013. Australia and New Zealand apparel and accessories were acquired for $15 million in July 2013.
Article continues below advertisement
Profitability
The profitability of RL's Licensing segment has increased over the years. Its operating margin climbed to 90% in fiscal 2015 from ~60% in fiscal 2011. Improvement in the segment's operating margin has been mainly a result of reduced operating expenses, which reflect the transition of certain licensing arrangements to wholly owned operations.
Licensing of Ralph Lauren's peers
Licensing continues to be an important channel for apparel and fashion companies. Licensing revenue accounted for about 50% of Calvin Klein's (PVH) top line in fiscal 2015. Still, apparel players are trying to get direct control of their brands by converting their licensing businesses to owned brands. Licensing accounted for 3.8% of Michael Kors' (KORS) total revenue in 2015, for example, as compared to 5.7% in fiscal 2011. On the other hand, for companies like VF Corporation (VFC), licensing has accounted for only about 1% of total revenues over the past five years.
Investors interested in exposure to Ralph Lauren can consider pooled investment vehicles like the iShares Morningstar Mid-Cap ETF (JKG), which invests 0.36% of its portfolio in the company.
In the next part, we'll look at Ralph Lauren's marketing and advertising.