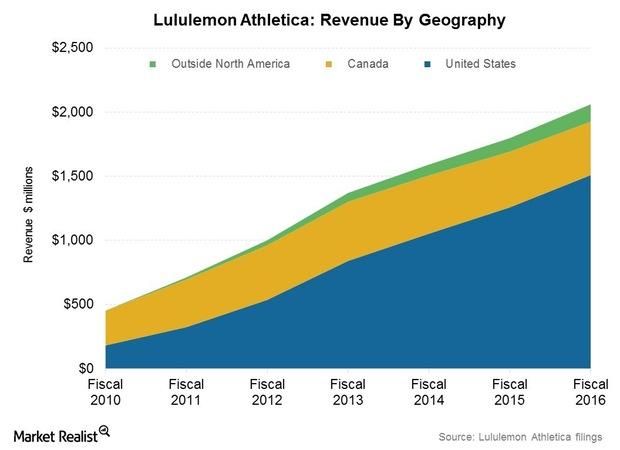 Five-Year Plan: Lululemon's Long-Term Vision and Goals
The 5-year plan
Over the next five years, Lululemon Athletica (LULU) is aiming to double its revenue to $4 billion by 2020[1. fiscal year ending in 2021] with an expected mid-single-digit growth rate in store (FXD) comps (comparables). A combination of product innovation, store expansion, e-commerce, and higher-than-average growth in the men's business is expected to help the retailer achieve its goals.
According to Stuart Haselden, chief financial officer at Lululemon, "As we look beyond 2016, we see a compelling growth model emerging with economics that are well within the company's past performance levels."
Article continues below advertisement
Article continues below advertisement
Sales mix
Sales from women's products are still expected to account for the bulk of Lululemon's sales and are projected to rise to $3 billion. The company is also very focused on its men's business. The retailer is projecting sales of $1 billion by 2020. The men's business has grown at an average quarterly rate of ~20% in the last ten quarters, according to Haselden.
Geographic mix
While most of the sales' upside is likely to be seen in North America, particularly in the US market, LULU expects sales outside the United States and Canada to account for 20%–25% of the total revenue by 2020. The yoga-wear retailer made $135 million in international sales in fiscal 2016, or 6.6% of the total revenue.
E-commerce impact
Lululemon also expects its e-commerce channel to deliver above-average growth. The company believes that e-commerce could account for about 25%–30% of sales or more by 2020. LULU made just more than $400 million in e-commerce sales in fiscal 2016, representing 19.5% of its total revenue.
LULU's new website for North America is slated for launch in the first half of 2016. The company is also looking to make new investments in customer relationship management, analytics, and online marketing.
In contrast, Adidas (ADDYY) is expecting global e-commerce sales of 2 billion euros by 2020, while Nike (NKE) expects global e-commerce sales to reach $7 billion by fiscal 2020.
Under Armour (UA), Lululemon's rival in the activewear category, is also upbeat on future growth in apparel. It expects ~65% of its projected $7.5 billion in revenue to come from apparel in 2018, implying apparel sales of $4.9 billion. UA made $2.8 billion in global apparel sales in 2015.
In the final part of our series, we'll see which mutual funds Lululemon beat in fiscal 2016.