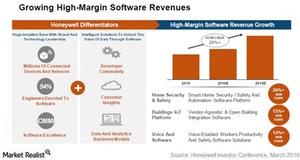 Essentials of the SaaS Business Model in Honeywell's ACS Unit
Software in Honeywell ACS: Growing at a rapid clip
The Automation and Control Solutions (or ACS) unit contributed $14.1 billion in total Honeywell (HON) sales in 2015. In 2015, 77% of total ACS sales ($10.8 billion worth of products) were enabled by software, the highest for any segment. Standalone software revenues were ~2% of ACS unit sales or $300 million in 2015.
Standalone software revenues comprised ~2% of ACS unit sales, totalling $300 million, in 2015. Standalone software is expected to grow at a compounded annual growth rate of 20% through 2018. By 2020, Honeywell sees standalone software rising to 7% of total unit sales. The company expects software-enabled products to drop by 3% to 74%. The combined software contribution is expected to increase from 79% of total sales in 2015 to 81% in 2020.
Article continues below advertisement
SaaS in Honeywell ACS
Honeywell's ACS unit uses the software-as-a-service (or SaaS) business model. In the SaaS model, software is licensed on a subscription basis to users. Instead of owning the software, users pay for its installation and a monthly fee for the service to automate their homes.
The company takes care of the maintenance and software upgrades, with no additional charge to the user. While companies like Samsung Electronics and Iris by Lowe's (LOW) are selling standalone systems instead of providing subscriptions, the SaaS model largely mimics the declining propensity toward ownership among today's customers. The SaaS model mitigates the ongoing cost of upgrades.
For more information about the ACS unit, please read A Walk-through on Software Capabilities in Honeywell Homes and Building Solutions.
Investors interested in trading in the industrials space can look into the Industrial Select Sector SPDR ETF (XLI) and the Vanguard Industrials ETF (VIS). Top holdings in XLI include General Electric (GE) at 11.5%, 3M (MMM) at 5.6%, and Honeywell (HON) at 5%.