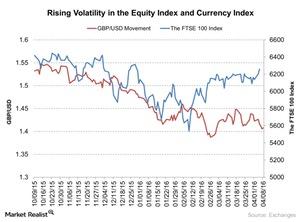 What Can Markets Expect from the UK ahead of Brexit Referendum?
By Sarah Sands

Nov. 20 2020, Updated 1:47 p.m. ET
Volatility in pound and equities could continue
Until the referendum, the GBP (Great Britain pound) will continue its volatility. The cross-currency risk is increasing as the referendum is approaching. Investors will be nervous about the future movement of the GBP (FXB) (GBB), which will be clearer after the referendum on June 23, 2016. The equity market will be affected by currency volatility.
The 2015 GDP (or gross domestic product) composition of the United Kingdom (EWU) (DXPS) by sector shows that the agriculture sector contributed 0.6%, the industrial sector contributed 19.7%, and the service sector contributed 79.6% of the GDP. Thus, the service sector is the major driver of the economy. Because the UK is a service-oriented economy primarily based in the financial sector, financial institutions such as HSBC (HSBC) and Barclays (BCS) will likely be more affected by the fear looming over doing business in the European Union (EZU) (VGK).
Article continues below advertisement
Fiscal and monetary policy measures
As the voting is only two months away, the key policymakers both from the government and the central bank of the UK will wait for the outcome of the result. Any major changes in fiscal or monetary policy before the vote could adversely affect the economy. However, the central bank will be closely watching GBP movement and may intervene if volatility becomes too high.
In the next part of this series, we'll analyze the political situation in the UK that has forced a Brexit vote.