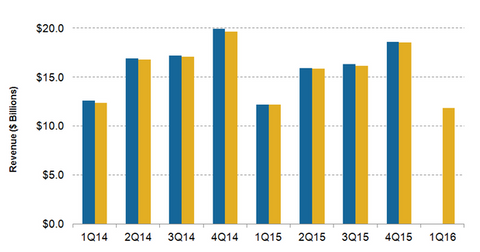 Why Analysts Expect PepsiCo's Revenue to Decline in Fiscal 1Q16
By Sirisha Bhogaraju

Updated
PepsiCo's 1Q16 results
On April 18, leading beverage and snack food company PepsiCo (PEP) is scheduled to announce its results for the first quarter of fiscal 2016, which ended on March 19. But PepsiCo's revenue has declined in each of the past five consecutive quarters.
Article continues below advertisement
Recap of Pepsi's and peers' performances in 2015
PepsiCo's revenue in fiscal 2015, which ended on December 26, 2015, declined by 5.4% to $63.1 billion, mainly due to the impact of currency headwinds. Adverse foreign currency movements had an impact of ten percentage points on the company's net revenue growth in fiscal 2015. But its organic revenue—which is adjusted for the impact of acquisitions, divestitures, other structural changes, and currency fluctuations—grew by 5% in fiscal 2015. Notably, the iShares US Consumer Goods ETF (IYK) has 6.9% exposure to PepsiCo.
Pepsi's Frito-Lay North America and North Americas Beverages segments were its only two segments that reported revenue growth in fiscal 2015. Its international segments were impacted by adverse foreign currency movements as the US dollar gained strength against major world currencies. Its Latin America segment was also impacted by the deconsolidation of the Venezuela operations.
By comparison, PepsiCo's nearest rival, Coca-Cola (KO), reported a 3.7% decline in its fiscal 2015 revenue, primarily due to the impact of currency headwinds. Dr Pepper Snapple (DPS), the third-largest soda beverage maker in the US, experienced a 2.6% growth in its fiscal 2015 revenue. This revenue growth was driven by favorable product and package mix, higher volumes, favorable segment mix, and higher pricing.
Despite adverse currency movements, Monster Beverage (MNST) reported a 10.5% rise in its fiscal 2015 revenue due to strong demand for energy drinks.
Revenue expectations
Analysts expect PepsiCo's fiscal 1Q16 revenue to come in at $11.8 billion. This estimate indicates an expected decline of 3% on a year-over-year basis. But currency headwinds are expected to drag down 1Q16 revenue. For fiscal 2016, analysts expect PepsiCo's revenue to decline by 1%.
Based on the guidance issued in January 2016, PepsiCo expects an organic revenue growth of 4% fiscal 2016, excluding the impact of the 53rd week. The company expects currency headwinds to impact reported net revenue growth adversely by four percentage points. The additional 53rd week in fiscal 2016 is expected to contribute around one percentage point to reported net revenue growth.
Read on for more on how PepsiCo is focusing on innovation to boost its sales.