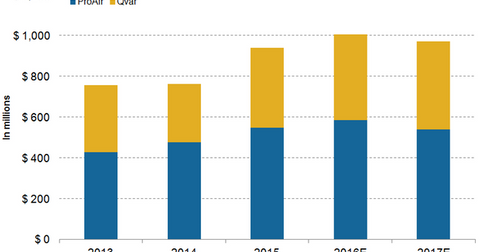 What Can We Expect from Teva's Respiratory Portfolio in 2016?
By Margaret Patrick

Updated
Respiratory portfolio
To boost the revenues of its respiratory portfolio, Teva Pharmaceutical Industries (TEVA) has been actively involved in developing and commercializing a breath-actuated dry-powder inhaler, available under the brand name of RespiClick in the United States and DuoResp in Europe.
Furthermore, Wall Street analysts have projected that ProAir revenues will rise by about 6.8%, from $549 million in 2015 to $586.6 million in 2016. Sales of Qvar are expected to reach $420.4 million in 2016, which is a YoY (year-over-year) increase of about 7.2%. The strong performance of the respiratory portfolio will enable Teva Pharmaceutical to compete fiercely with generics player Mylan (MYL).
If Teva manages to realize the revenue projections, this could boost share prices of the SPDR S&P World ex-US ETF (GWL). Teva (TEVA) makes up about 0.35% of GWL's total portfolio holdings.
Article continues below advertisement
ProAir
On June 20, 2014, Teva entered into a settlement with Perrigo (PRGO) and Catalent (CTLT), allowing the latter to sell generic versions of ProAir HFA in a limited quantity from December 19, 2016. According to a press release by Teva, "ProAir HFA is indicated in patients 4 years of age and older for the treatment or prevention of bronchospasm with reversible obstructive airway disease and for the prevention of exercise-induced bronchospasm."
To reduce the impact of generic competition on ProAir's revenues, Teva launched the ProAir RespiClick multidose dry-powder inhaler in the US market in June 2015. This inhaler was approved by the FDA on April 1, 2015, for bronchospasm patients over 12 years old. Since the device is breath actuated, unlike other inhalers, patients do not have to coordinate their hands and breath while inhaling the drug.
Currently, about 4% of ProAir patients use RespiClick, which makes up around 2.5% of the total SABA (short-acting beta-agonist) inhaler market. About 75% of ProAir RespiClick's patients are new to the drug, while the remaining switched from the ProAir HFA. Teva has managed to convince about 75% of the commercial payers to include ProAir RespiClick in their formularies. Additionally, the company is actively involved in educating patients and doctors about the benefits of the new inhaler. In the next part of this series, we'll explore Teva's research programs in the respiratory segment.