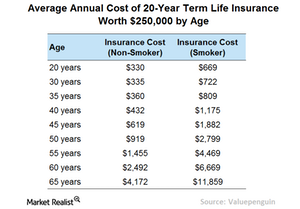 Why Term Life Is Most Beneficial to Young Adults
By Peter Barnes

Mar. 15 2016, Updated 9:13 p.m. ET
Beneficial to young adults
Term life (IYF) is most beneficial to young adults who are relatively free from any financial responsibilities unless there are dependents to take care of. Moreover, term life is much cheaper than whole life. A ballpark figure shows that a healthy adult between 25 and 35 years old can obtain a 20-year term life insurance policy worth $250,000 for an annual premium of $330–$360. However, smoking becomes an expensive affair with term life because the premium shoots up to $670–$800 per year.
Article continues below advertisement
Insurance premium rises with age
Renewal or conversion option
As a young adult grows older, gets married, and has kids, the term life policy can be renewed or converted to a whole life policy depending on changing insurance needs. The whole life policy will provide lifetime death benefits afterwards.
Article continues below advertisement
Selecting the right term policy
Relatively short duration policies of a ten-year term are one of the cheapest in the market. Thus, they are suitable for people with financial constraints or those who don't see any need for insurance after ten years.
On the other hand, 20-year term policies are typically suitable for young families with large debts like mortgages or for those who are expected to incur high expenses like children's education that would become extremely difficult to manage after the sudden loss an income.
Decreasing term to cover mortgages
Many people use decreasing term life insurance (PRI) (MET) as an alternative to mortgage insurance, which is expensive. The death benefits decrease each year along with premiums as you pay your mortgage regularly. You can purchase a 20-year insurance policy to cover the amount you have borrowed on a 20-year mortgage. Decreasing term deals with the issue of overpayment of premiums in case the outstanding mortgage declines substantially after a few years.