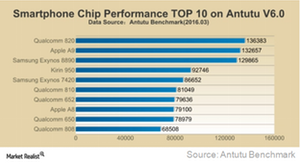 What Is Samsung's Growth Strategy in the Smartphone Market?
By Puja Tayal

Mar. 11 2016, Published 11:54 a.m. ET
Samsung looks to grow market share
South Korea–based (EWY) Samsung (SSNLF) is making efforts to boost revenue and maintain a double-digit margin amid slowing smartphone sales.
In order to grow in the slowing smartphone market, Samsung is looking to increase its market share and reduce its costs. Let's understand these strategies and their impacts on Samsung and its suppliers.
Article continues below advertisement
Samsung launches Galaxy S7
According to the IDC (International Data Corporation), Samsung's market share fell from 24.4% in 2014 to 22.7% in 2015, while Apple's (AAPL) rose from 14.8% to 16.2%. In order to win back its market share from Apple, Samsung is launching its flagship product Galaxy S7, which is believed to compete with the iPhone 6S.
The S7 model removes the S6's drawbacks of no removable battery and no memory card slot. It also offers longer battery life, wireless charging, and a waterproof feature for up to 30 minutes in 1.5 meters of water.
Semiconductor companies with exposure to S7
Samsung is bundling the S7 phone with an Oculus-powered virtual reality headset that uses NVIDIA (NVDA) chips and a 360-degree camera.
There are rumors that half of the S7 models will be powered by Samsung's Exynos 8 processors, and the remaining half will be powered by Qualcomm's (QCOM) Snapdragon 820 chips. Both chips are made on the 14 nanometer node, which reduces the cost per chip.
The entry of Qualcomm chips in the S7 took business away from Cirrus Logic (CRUS). However, the Exynos 8 powered phones will still use CRUS chips.
If the Galaxy S7 proves to be a success, it will have positive impacts on the revenues of NVDA, QCOM, and CRUS. However, the S7 will face competition from Apple's iPhone 7, which is due to be launched in September 2016.
Article continues below advertisement
Mid- and low-end smartphones
Samsung also plans to launch new editions of its existing mid- and low-end smartphones, thus capitalizing on the changing trend toward this segment. However, it will face tough competition from Huawei in this area.
With new launches in all segments, Samsung plans to shorten the intervals between product launches to remain competitive while streamlining its smartphone portfolio to control costs.
Limitation in technology innovation
All smartphone makers face the issue of stagnancy in hardware innovation. Samsung is currently working on developing a smartphone with foldable displays, but it hasn't committed to any timeframe for this.
Meanwhile, the company is focusing on increasing competitiveness by offering mobile software and services. It has created separate divisions for software and hardware research and development.