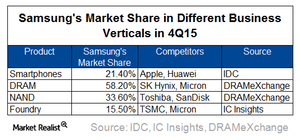 Samsung: A Semiconductor Foundry, Competitor, and Customer
By Puja Tayal

Mar. 18 2016, Updated 12:04 p.m. ET
Samsung's semiconductor business structure
South Korea's (EWY) Samsung (SSNLF) plays multiple roles in the semiconductor industry due to its vertical business model:
Through its foundry business, it provides chip manufacturing services to companies such as Qualcomm (QCOM), NVIDIA (NVDA), and Apple (AAPL).
Through its memory and logic chip business, it competes with its foundry customers NVIDIA and QCOM but serves smartphone manufacturers such as Apple.
Through its smartphone business, it competes with its foundry customer Apple but acts a customer for QCOM.
Let's understand the opportunities and challenges this complex structure brings for Samsung.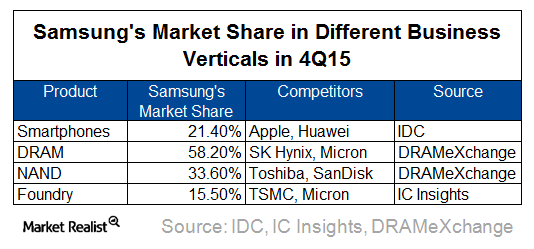 Article continues below advertisement
Apple
Samsung and Apple's competition in the high-end smartphone market is a well-known fact. While a rise in iPhone sales is bad news for Samsung's smartphone business, it's good news for Samsung's foundry and chip business.
Apple sources some of its iPhone components from Samsung and manufactures some of its chips at Samsung's foundry. In this way, Samsung benefits from both scenarios. If it doesn't benefit as a competitor, it benefits as a supplier to Apple.
Qualcomm
Qualcomm is a dominant supplier of mobile chips to many handset makers including Apple and Samsung. In 2015, Qualcomm lost Samsung's account as the latter moved to SoCs (system-on-chip) built in-house. However, this was not the end of the QCOM-SSNLF partnership.
Qualcomm selected Samsung as its foundry partner to manufacture Snapdragon 820 on the Samsung's 14nm (nanometer) FinFET (fin-shaped field effect transistor) technology. It is rumored that Samsung has selected Qualcomm as a chip supplier for its flagship product Galaxy S7.
Here, Samsung acts as a foundry partner and customer for Qualcomm. Even if Samsung does not use Qualcomm's chips in all its devices, it still benefits from the success of the chip through its foundry business.
NVIDIA
NVIDIA has selected Samsung as a foundry partner to manufacture GPUs (graphic processing units). However, the two companies are in a patent lawsuit over memory chips and GPU technology. If NVIDIA wins the patent lawsuit, Samsung would become its licensing partner.
Here, Samsung acts as a foundry partner and competitor of NVIDIA. While Samsung is benefiting by selling its own GPUs, it's also benefiting from GPUs sold by its competitor NVIDIA. Moreover, the lawsuit ruling could make Samsung a licensing customer of NVIDIA.
With the slowdowns in both the smartphone and semiconductor industries, the benefits of Samsung's semiconductor business model have diluted. It remains to be seen how technology advances will fare for Samsung in the coming quarters.