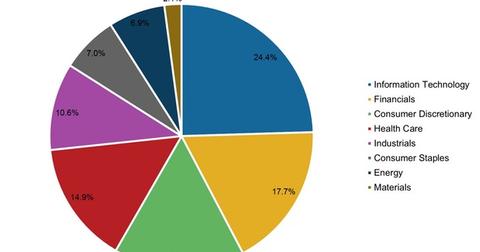 Need-to-Know Facts about the Fidelity Magellan Fund
By David Ashworth

Updated
Fidelity Magellan Fund overview
The Fidelity Magellan Fund (FMAGX) invests primarily in common stocks of US and foreign issuers. It invests in either growth stocks, value stocks, or both. The fund is managed by Jeffrey Feingold, who has been at the helm since September 2011.
The fund manager undertakes the bottom-up investment approach, which involves a fundamental analysis of the issuers by looking at factors like the financial condition and industry position. The manager also looks at macro factors such as market and economic conditions before selecting stocks for the portfolio.
Article continues below advertisement
Portfolio composition
According to information provided by the fund house, information technology was the single-largest sectoral holding of the fund and formed 24.4% of the portfolio as of January 2016. Financials and consumer discretionary, in that order, were second and third and formed a combined one-third of the portfolio. Healthcare and industrials rounded off the top five invested sectors. The fund is not invested in the telecom services and utilities sectors.
Compared to the S&P 500 Index, the fund is overweight in the information technology, financials, consumer discretionary, and industrials sectors while being underweight in the consumer staples sector.
General Electric (GE), Berkshire Hathaway (BRK-B), Coca-Cola (KO), Boston Scientific (BSX), and Bruker Corporation (BRKR), were among the fund's 152 holdings as of December 31, 2015. As of February 2016, the fund was managing $14.4 billion in assets.
Fees and minimums
Founded in May 1963, the Fidelity Magellan Fund has an expense ratio of 0.7%. There is a $2,500 to invest in this fund, and there is no minimum subsequent investment. The fund does not impose any sales charges.
In the next article, we'll look at some of the key metrics of the fund's performance in the one-year period ended March 18, 2016.