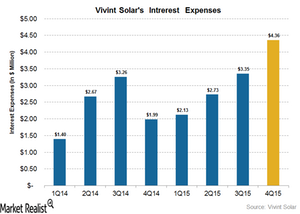 Must Know for Investors: Vivint Solar's Liquidity Position
By Sheldon Krieger

Mar. 17 2016, Published 3:32 p.m. ET
Why liquidity matters
The business model of downstream solar (TAN) players like Vivint Solar (VSLR), SolarCity (SCTY), Sunrun (RUN), and SunPower (SPWR) (downstream operations) generate income over the term of customer agreements, and these agreements typically last for 20 years. The majority of capital required for early expansion has to come from outside sources, however, and as a result, it's very important for Vivint Solar to maintain a liquidity position in order to raise capital at low costs.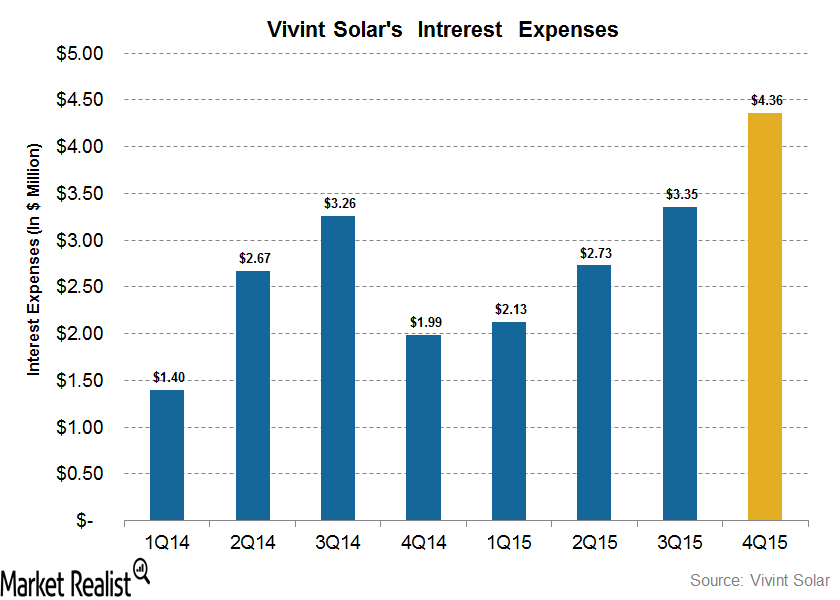 Article continues below advertisement
Interest expenses
Vivint Solar's (VSLR) interest expenses were consistently on the rise during 2015. The company reported nearly $4.4 million in interest expenses in 4Q15, compared to almost $3.4 million in 3Q15 and ~$2 million in 4Q14. This increase in interest expenses is due to increases in debt raised to fund business expansion.
Vivint's debt structure
As of December 31, 2015, the company had about $415.9 million in consolidated debt on its books—an increase from the $105 million it had as of December 31, 2014. Out of that $415.9 million, $269.1 million was borrowed under the aggregate credit facility, and the remaining $146.8 million was borrowed under the working capital credit facility.
The aggregate credit facility is a loan that comes with covenants. The principal and any interest accrued outstanding under the aggregate credit facility will mature on March 12, 2018. The principal and interest outstanding under the working capital working capital credit facility won't mature until March 2020.
Cash and cash equivalents
As of December 31, 2015, Vivint had about $92.2 million in the form of cash and cash equivalents on its balance sheet, compared to $261.6 million as of December 31, 2014. Moving ahead, the company prefers to raise capital through tax equity financing from existing and new investors. According to company filings, Vivint Solar has tax equity commitments from investors to fund about 55 MW as of February 29, 2016.
Continue to the next and final part for our discussion of the 2016 outlook for Vivint Solar.