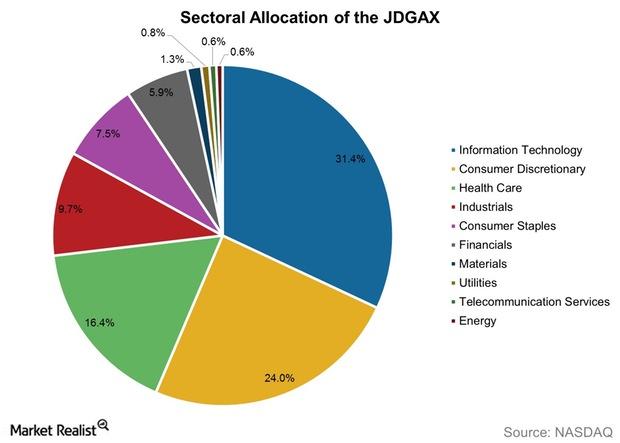 What You Should Know about the Janus Fund
By David Ashworth

Mar. 24 2016, Updated 11:12 p.m. ET
Janus Fund overview
The Janus Fund mostly invests in common stocks of companies that the fund managers have selected for their growth potential. Although the fund can invest in companies across market caps, it focuses on large-cap companies. The fund is managed by Burton H. Wilson, who has been managing the fund since May 2011, and Jean Galligan Barnard, who has been co-managing the fund since January 2016.
Fund managers conduct bottom-up research while constructing and rebalancing the fund's portfolio. The fund also invests in derivative securities and can also invest in emerging market securities. The fund's literature states that the fund intends to maintain volatility similar to the Russell 1000 Growth Index. It looks for companies that have projected above-average earnings growth for the coming five years.
Article continues below advertisement
Portfolio composition
According to information provided by the fund house, information technology was the largest sectoral holding of the fund and formed 31.4% of the portfolio as of February 2016. The consumer discretionary and healthcare sectors, in that order, were second and third and formed a combined 40% of the portfolio. Industrials and consumer staples rounded off the top five invested sectors.
Compared to the Russell 1000 Growth Index, the fund is overweight in the information technology and consumer discretionary sectors. It is underweight in the industrials, consumer staples, materials, and telecom services sectors.
Bristol-Myers Squibb (BMY), Kimberly-Clark (KMB), Kroger (KR), Norwegian Cruise Line Holdings (NCLH), and Cadence Design Systems (CDNS) were among the fund's 91 holdings as of the end of February2016. As of February 2016, the fund was managing assets worth $7.2 billion.
Fee and minimums
The Janus Fund – Class A (JDGAX) was founded in February 1970 and has an expense ratio of 0.98%. There is a minimum of $2,500 to invest in this fund via Class A shares, but there is no minimum subsequent investment. The fund can charge a maximum sales charge of 5.75% of the offering price on the purchase of Class A shares.
In the next article, we'll look at some of the key metrics of the fund's performance in the one-year period ended March 18, 2016.