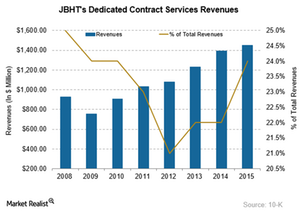 J.B. Hunt Transport's Dedicated Contract Services Division
By Samuel Prince

Mar. 9 2016, Updated 12:07 a.m. ET
Largest dedicated carrier
J.B. Hunt Transport (JBHT) is the largest dedicated carrier in North America. JBHT's dedicated trucking services provide shippers with capacity by managing the fleet on the shipper's behalf. Dedicated trucking allows shippers to outsource their transportation functions, allowing them to focus on their core business. This is often called a private fleet conversion.
Article continues below advertisement
Dedicated Contract Services (or DCS) segment
The DCS segment focuses on private fleet conversion and creation in replenishment, specialized equipment, and final mile delivery services. The company specializes in the design, development, and execution of supply chain solutions that backs multiple transportation networks. J.B. Hunt Transport (JBHT) has a network of roughly 89 cross-dock locations throughout the US to support the company's final-mile, or last-mile, delivery services.
Final-mile is the last stop of the supply chain, in which customer merchandise is delivered to the home or office, is a vital part of the supply chain.
Nature of DCS contracts
In the DCS segment, J.B. Hunt Transport works with long-term contracts, usually lasting three to ten years. The average age of a contract is approximately five years. JBHT executes these contracts with cost-plus arrangements, where it recovers fixed costs regardless of equipment utilization.
At December 31, 2015, this segment operated 6,762 company-owned trucks, 436 customer-owned trucks, and ten independent contractor trucks. The composition of the DCS trailing fleet varies with specific customer requirements. This may include dry vans, flatbeds, and temperature-controlled curtain-side vans as well as dump trailers. At the end of 2015, this segment employed 9,948 people, representing 46% of the total employee base.
Article continues below advertisement
Competition
The services offered by the DCS segment are subject to multiple competition areas such as:
customers' private fleets
private fleet outsourcing companies
equipment leasing companies
local and regional delivery service providers
few truckload carriers
The major competitors of JHBT in the DCS segment include Ryder System (R), Penske Logistics, Great Wide Logistics Services, Swift Transportation (SWFT), Canada Cartage, Werner Enterprises (WERN), and Ruan Transportation.
ETF investments
The Guggenheim Raymond James SB-1 Equity ETF (RYJ) holds 0.74% in Ryder System and 0.83% in SWFT. Overall, this ETF invests 5.21% in the US trucking companies.
Keep on reading to know JBHT's integrated capacity solutions segment.