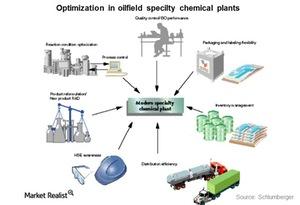 The Importance of Specialty Chemicals in the Oil Industry
Reasons oil needs specialty chemicals
Specialty oilfield chemicals are used in the oil and gas industry (XOP) to improve well performance by making exploration and production more cost efficient and environmentally friendly. Demulsifiers and corrosion and scale inhibitors are the dominant product categories among oilfield chemicals, but as crude oil is generally produced with significant amounts of saline water, demulsifiers need to be used in processing in order to separate this water prior to refining, which would otherwise cause significant corrosion problems.
Article continues below advertisement
Article continues below advertisement
As implied by the name, corrosion and scale inhibitors prevent the build of corrosion and scale in the production system, enabling companies to achieve a substantial reduction in equipment and maintenance costs. Oilfield chemicals can be further classified based on their applications, ranging from drilling fluids, workover, completion, and cementing to well stimulation and enhanced oil recovery.
Drivers and markets
The demand for specialty oilfield chemicals is dependent on the financial health of the oil industry (IEO), and the motivation for producers to drill deeper into their reserves is higher during periods of increased demand and rising oil prices. Since the extraction of oil from challenging hydrocarbon geographies is expensive, producers generally pull back from investing when oil prices trade at lower levels.
Article continues below advertisement
North America is by far the largest regional market, driven by the massive expansion of shale oil and the natural gas industry in recent years. Asia-Pacific, on the other hand, is expected to be the fastest-growing region, given rising energy demand in China and India. Major companies catering to this segment are Dow Chemicals (DOW), BASF (BASFY), and Chevron (CVX).
Gone with the wind?
Composite materials are used in the wind turbine industry, as well, to offset the disadvantages that longer wind blades face when manufactured using traditional materials. Still, due to the limits of location—to the challenge of where wind turbines can actually be installed—wind energy is unlikely to constitute a substantial growth market until the industry develops further.
That said, plenty of other industries rely on specialty chemicals. Continue to the next part to find out more.