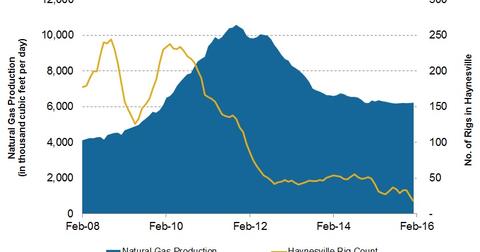 Why Haynesville Shale Natural Gas Production Fell 2% in a Year
By Alex Chamberlin

Updated
Haynesville Shale natural gas production
The EIA (U.S. Energy Information Administration) estimates that the Haynesville Shale, located in Louisiana, Arkansas, and Texas, produced 6.2 Bcf (billion cubic feet) per day of natural gas in February 2016. This is according to the EIA's Drilling Productivity Report released on March 7, 2016.
The Haynesville Shale's natural gas production in February 2016 was a marginal 0.2% higher than production in January 2016. On a YoY (year-over-year) basis, February's production was 2% lower.
According to the EIA, natural gas production at the Haynesville Shale has risen 53% in the last eight years. In February 2016, the region produced ~6.2 Bcf per day of natural gas compared to ~4.1 Bcf per day in February 2008.
Article continues below advertisement
Haynesville rigs and monthly additions from the average rig
The number of active rigs at the Haynesville Shale was 18 in February 2016, seven less than in the previous month. In February 2015, there were 49 drilling rigs in the region. It's important to note that most of the Haynesville rigs are horizontal in trajectory.
From February 2008 to February 2016, additional natural gas production per rig at the Haynesville Shale rose from ~1.2 MMcf (million cubic feet) per day to ~5.5 MMcf per day, or by 3.5x. In the 12 months to December 2015, natural gas production addition per rig rose 17%.
What does this mean for oilfield services companies?
Steady Haynesville Shale drilling and production activities can lead to steady revenues for oilfield equipment and services providers. Strong drilling, exploration, and production also help maintain steady margins for companies such as Baker Hughes (BHI), C&J Energy Services (CJES), Weatherford International (WFT), and Core Laboratories (CLB).
CJES makes up 0.01% of the iShares Russell 2000 Value ETF (IWN), but for those looking to invest in the energy sector, energy makes 4.3% of IWN.
Have production adjustments started in US shales?
Crude oil and natural gas production at key US shales has risen in the past few years. However, aggregate crude oil production in these shales fell ~5% over the past year through February 2016.
Aggregate natural gas production, on the other hand, has risen ~6% over the past year. The EIA's projections suggest that production at many of these shales could fall further or stagnate within the next two months.