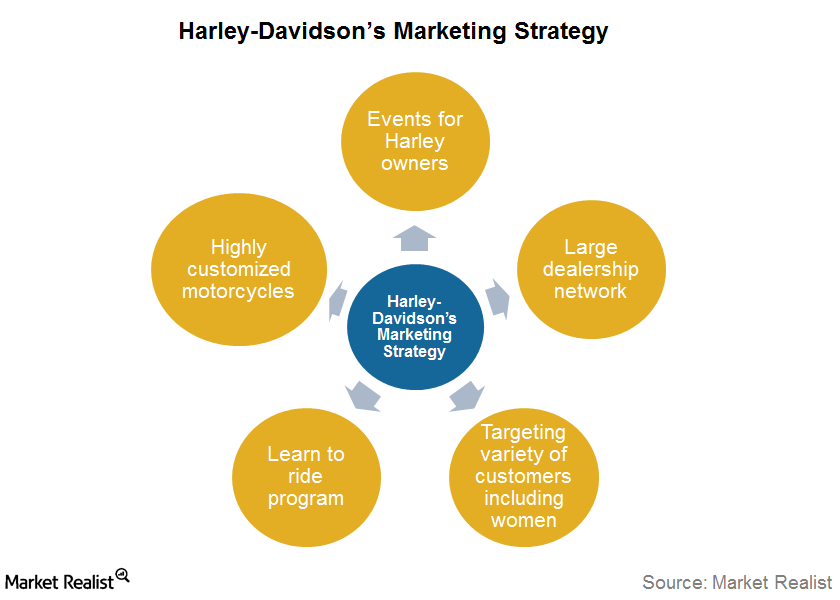 What Is Harley-Davidson's Marketing Strategy?
Importance of marketing strategy
So far in this series, we have covered Harley-Davidson's (HOG) various offerings and plans to enter the electric motorcycle segment. We have also looked at the company's recent financial figures. It's also important for investors to take a look at an automaker's marketing strategy to understand how the company differentiates its strategy to market its offerings.
Article continues below advertisement
Harley-Davidson's marketing strategy
Harley-Davidson is the pioneer in motorcycle manufacturing. As noted earlier, the company offers a wide variety of motorcycles ranging from lightweight street motorcycles to heavyweight touring motorcycles.
Harley-Davidson's marketing strategies are primarily focused on providing a personalized experience to its customers to allow them to connect with the brand.
Customization
Allowing Harley customers to modify or customize their motorcycle is one of the rare features that the company offers. Only a few major automakers allow customization of vehicles to this extent, be it four wheelers or two wheelers. Such customization from Harley-Davidson includes a choice of colors, wheels, seats, racks and backrests, windshields, exhausts, and intakes.
Article continues below advertisement
Large dealership network
Currently, Harley-Davidson has nearly 1,435 dealerships globally. The majority of these dealerships are located in the US, Europe, and Canada. Lately, the company has been focusing on expanding its dealerships in the Asia-Pacific market as well.
"Learn to Ride" program
Harley-Davidson runs a "Learn to Ride" program with the help of Harley-Davidson Riding Academy. Under this program, various courses are offered to new Harley riders. These courses provide new riders with expert guidance from Harley-Davidson certified coaches at select Harley-Davidson dealers.
Customers can also choose to enroll in the Harley-Davidson Jumpstart program, where they can experience riding a real Harley-Davidson motorcycle at a specially designed, stationary support stand.
Article continues below advertisement
Targeting a variety of customers
According to the company, its core customers are defined as men over the age of 35. To enhance the experience of riding a Harley motorcycle, the company offers a variety of gears and apparel to its customers. In addition, the company is also making efforts to connect with outreach customers including young adults and women. For this reason, the company also markets Harley-Davidson branded gear and apparel specifically designed for women through its website.
Events for Harley owners
As discussed earlier in the series, Harley-Davidson has an organized group for Harley motorbike enthusiasts called Harley Owners Group (or HOG). To keep the spirit alive for Harley riders, the company organizes various events for HOG members.
In the auto industry, companies put a great deal of effort into their marketing strategy. However, the marketing strategies of auto giants (VCR) such as General Motors (GM), Ford (F), and Fiat Chrysler (FCAU) remain quite similar.