Where Are Harley-Davidson Motorcycles Manufactured?
Most of Harley-Davidson's (HOG) manufacturing and assembly plants are located in the US.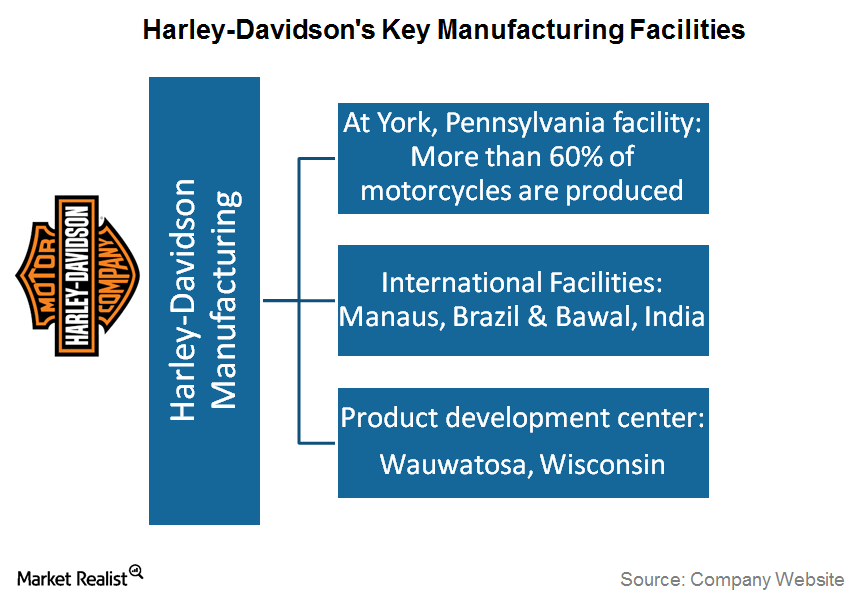 Harley-Davidson motorcycles
Previously in this series, we looked at the role of motorsports in the successful history of Harley-Davidson. It's also important for investors to know where a company manufactures its motor vehicles because it may affect the profitability of an automaker.
Article continues below advertisement
Article continues below advertisement
Manufacturing plants
Most of Harley-Davidson's (HOG) manufacturing and assembly plants are located in the US. The company's York, Pennsylvania, plant was established in 1973. The company assembles its touring, trike, and soft tail motorcycle models at this plant. Also, manufacturing operations such as fabrication, welding, polishing, and painting are done here. Some of Harley-Davidson's limited production and factory-custom motorcycles are also assembled at the York facility. Notably, the production at this plant accounts for more than 60% of total motorcycles produced by the company.
Apart from this major manufacturing facility in York, Harley-Davidson also manufactures and assembles its motor vehicles and spare parts in Kansas City, Tomahawk, and Menomonee Falls in the US.
International operations
Outside the US, Harley-Davidson owns two major manufacturing and assembly plants in Brazil and India. Operations at the Manaus assembly plant began in 1999. Since then, the company has assembled the majority of the motorcycles it sells in the Brazilian market at this plant.
Harley-Davidson owns its second international facility in Bawal, India. This facility was established in 2011 to improve its production flexibility, market responsiveness, and operations in the Indian market. Apart from the Indian market, the company also began manufacturing its street motorcycle models for other markets including Italy, Spain, and Portugal at this plant since 2014.
Some mainstream automakers (VCR) such as General Motors (GM), Ford (F), and Toyota (TM) also have been trying to localize their vehicle production outside their home country to minimize their cost production.
Product development center
Harley-Davidson owns a dedicated product development center in Wauwatosa, Wisconsin. The product development center was set up in 1997. This facility is important for the company, as it brings together the original equipment engineering, styling, and developmental purchasing groups in a centralized location. Functions such as new product development, testing, styling, and developmental purchasing for Harley-Davidson motorcycles take place here.
Continue to the next article to find out what kind of financial services Harley-Davidson offers customers.