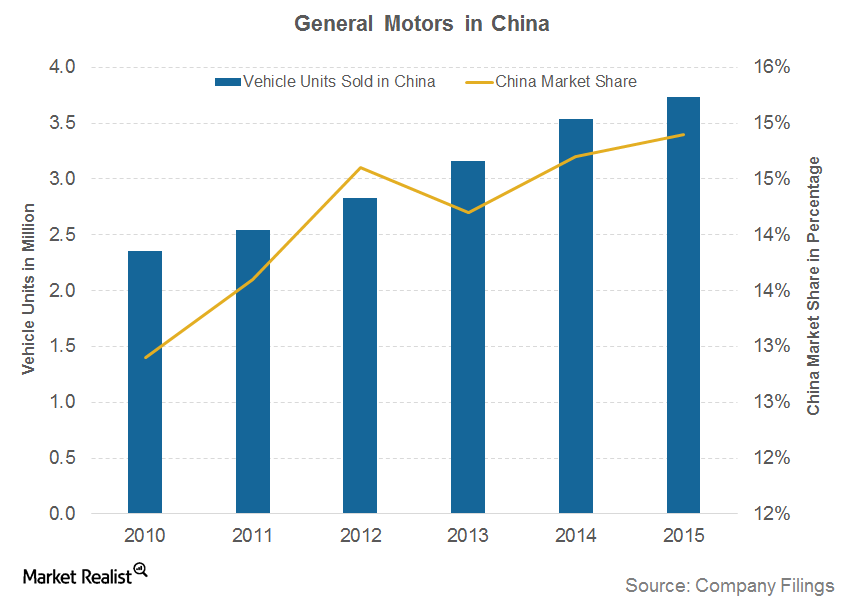 General Motors Continues to Rule the Chinese Auto Market
Chinese auto market
Today, China is the largest auto market in the world. In 2015, China's vehicle sales reached at 25.1 million units, up 4.3% from the previous year. This was much higher than US auto sales figures of 17.4 million vehicles during the same year.
In this article, we'll find out why the Chinese auto market is so important for General Motors and what challenges it may face in the region going forward.
Article continues below advertisement
General Motors in China
In 2015, General Motors remained at the top in the Chinese market, with the largest market share of 14.9%. This was higher than its share of 14.7% in 2014.
Note that this market share data also includes General Motors' joint ventures in China. In these joint ventures, the company shares ownership and management of a company with one or more parties. This means that its revenues from the region are shared with the other companies involved in these joint ventures.
In recent years, General Motors has been trying to capture more Chinese vehicle demand by launching market-specific popular vehicles such as various sports utility vehicles, Cadillac vehicles, and multipurpose vehicles.
Competition in China
As you can see in the chart above, the company (including joint ventures) sold ~3.6 million vehicles in China in 2015. This can be seen as one of the key strengths of General Motors.
In recent years, major global auto industry players (VCR) including GM, Volkswagen (VLKAY), Toyota Motor (TM), and Ford Motor Company (F) have faced intense competition from local Chinese automakers. Auto manufacturers in countries such as China and India benefit from the lower cost of operations, including labor. This leads to intensified competition in such emerging markets.
Chinese automakers include Chang'an Automobile Group, BAIC Motor, and Dongfeng Motor.
Other challenges
According to General Motors, the intensifying competition in the Chinese market may lead to the further price reductions and lower margins in the coming years. Note that the company's margins are already much lower in the Chinese market compared to the North American market.
Going forward, the company may also face challenges, as the growth rate of Chinese auto demand has fallen lately amid concerns of economic slowdown in the region.
General Motors also helps its customers to purchase vehicles through its financial services arm. We'll take a look at this in the next article of the series.