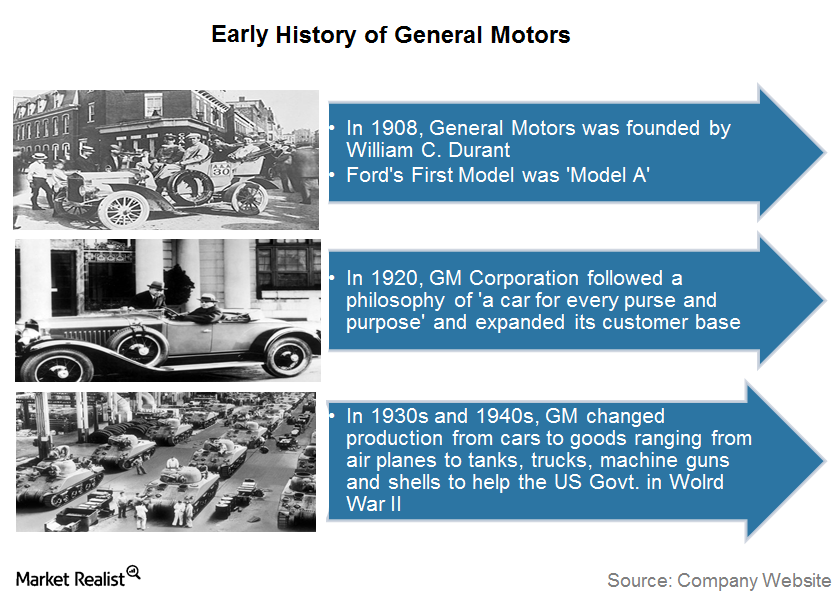 General Motors: The Beginning of the US Auto Giant
The beginning of General Motors
General Motors (GM) is the largest American automaker. The company was founded in 1908 by William C. Durant. This was also the year when major US automaker Ford Motor Company (F) launched its iconic Model T.
Despite Ford's dominance, it didn't take too much time for General Motors to prove its strength in the automotive market.
Article continues below advertisement
The great corporation of brands
Since the beginning, General Motors has been a corporation of multiple brands in the automotive industry. From luxury car brands such as Cadillac to heavy-duty, full-size truck brand Jiefang, General Motors has them all under one umbrella. GM's aggressive acquisitions of such powerful brands have made it one of the most reputed companies in the auto industry.
By the early 1920s, US auto demand witnessed a shift from basic vehicles to luxury, or performance, vehicles. During this period, General Motors launched many better-looking new vehicles that were also more powerful than Ford's Model T. This helped GM to expand its customer base and expand its US market share to 12%.
In the late 1930s and early 1940s, the company also supplied trucks and weapons to the US military during World War II. This was followed by a substantial increase in GM's US market share to 54% by 1954.
Among other major automakers (VCR), Fiat and Ford Motor Company were founded before General Motors, in the years 1899 and 1903, respectively. European auto giant Volkswagen (VLKAY) was founded much later than General Motors, in 1937. In 2014, Fiat merged with US automaker Chrysler to form a new business entity known as Fiat Chrysler Automobiles (FCAU).
Series overview
In this series, we'll look at a brief history, key geographical regions, and key brands of General Motors. Then we'll analyze the company's most recent financial figures and data, which are important to know for investors. This series will help investors to know the key aspects of General Motors' business before investing in its stock.
Toward the end of the series, we'll find out how the company's current valuation looks, and what factors could drive its valuation multiples in the future.
Continue to the next article to read about General Motors' most powerful brand in its successful history.