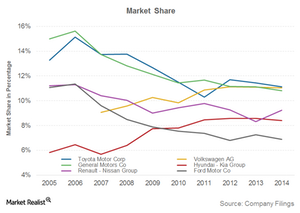 Why Has Ford's Global Market Share Fallen in the Last Decade?
Ford's global market share
Ford Motor Company (F) is the second largest US automaker after General Motors (GM). However, the company stands in sixth place in terms of global market share. In this article, we'll take a look at some key factors that have impacted Ford's global market share.
As you can see in the chart above, Ford's market share fell from 11.1% in 2005 to ~7% in 2015. This significant drop in the company's global market share occurred primarily due to the factors below.
Article continues below advertisement
Competition outside North America
North America has been a significant market for Ford Motor Company since the beginning of the company. As noted earlier in this series, this region accounts for more than half of total revenues of the company.
However, in the last decade, we've seen a significant rise in auto demand from markets outside North America. It's important for the company to capture this demand from emerging markets. At the same time, it's also important for the company to maintain its market share in North America.
Ford's global market share has fallen significantly in the past decade due to the intensified competition the company is facing, especially in the new large auto markets such as China, Brazil, and India. Note that this falling trend in global market share has affected other established players including Toyota (TM) and General Motors (GM).
However, other major automakers (FXD) such as Volkswagen (VLKAY) and South Korea–based Hyundai have been able to expand their market shares in the past decade. Focus on emerging markets has helped these companies to benefit from this churn in market share.
Strength in commercial vehicle segment
On the positive side, Ford has a strong presence in the commercial vehicle segment with its legacy F-series trucks. In recent years, auto demand in North America has been primarily driven by pickup trucks. This has helped the company to maintain its market share in North America.
Continue to the next part of this series for a discussion on the significance of F-series for Ford Motor Company.