How Did FedEx Grow into One of the Largest Logistics Giants?
In the international arena, FedEx primarily competes with DHL, United Parcel Service (UPS), and foreign postal authorities.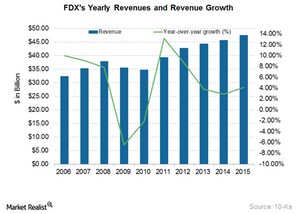 A transition from organic to inorganic growth
In the last part, we learned that FedEx (FDX) distinguished itself from American corporates with its $1.0 billion in revenues within ten years from the start of operations. In this article, we will assess FDX's foray into international markets.
Article continues below advertisement
Article continues below advertisement
Years of inorganic growth
In 1984, the company made its first acquisition, the US-based package courier Gelco Express with operations in 84 countries. In the same year, FDX forayed outside the US and acquired logistics companies in Europe and the Middle East. FedEx began its service to Europe and Asia. In 1985, the company started its European operations by opening a hub at the Brussels airport. You should note that within two years from the milestone year 1983, it added another $1.0 billion in revenues to attain the $2.0 billion mark.
With an aim to develop a delivery system across the globe, FDX acquired Tiger International in February 1989 for $883.0 million. With this acquisition, FedEx got control of Tiger's heavy cargo airline, Flying Tiger Line. The acquisition included routes to 21 countries, a fleet of Boeing 747s and 727s, and facilities across the globe.
In 1995, the company entered the Chinese market through the acquisition of Evergreen International Airlines, which gave authority to FDX as a sole US-based, all-cargo carrier with aviation rights to China. In January 1998, FedEx acquired Caliber System.
In a major reorganization in 2000-2001 the company made the following changes:
Article continues below advertisement
RPS, a small-package ground service was renamed "FedEx Ground."
Roberts Express, a time-sensitive shipping provider, was rebranded as FedEx Custom Critical.
Viking Freight, a regional less-than-truckload freight transporter, combined with American Freightways to become FedEx Freight.
Caliber Logistics and Caliber Technology, providers of integrated logistics and technology solutions, were redesigned as FedEx Global Logistics.
In February 2004, FedEx acquired privately held Kinko's, which was later rebranded as FedEx Office. In the same year, FDX acquired Parcel Direct, which was a parcel consolidator. The company re-packaged the latter as FedEx Smart Post. Through 2004 to 2015, the company made numerous acquisitions, notably in Europe and Asia to expand and deepen its footprints across the globe. In 2015, FDX acquired GENCO, a major third-party logistics provider in North America. In the same year, it entered into an agreement to acquire TNT Express (TNTEY). TNT has operations in Europe, the Middle East and Africa, Asia-Pacific, and the Americas.
Competition
In the international arena, FDX primarily competes with DHL, United Parcel Service (UPS), and foreign postal authorities. FedEx also competes with freight forwarders like CH Robinson (CHRW), passenger airlines like Delta (DAL) and JetBlue (JBLU), and all-cargo airlines.
Investors who want exposure in the transportation and logistics sector can invest in the Industrial Select Sector SPDR Fund (XLI). This ETF invests 13.4% in airlines and 7.9% in railroads. In the next part, we will present an overview of FedEx.