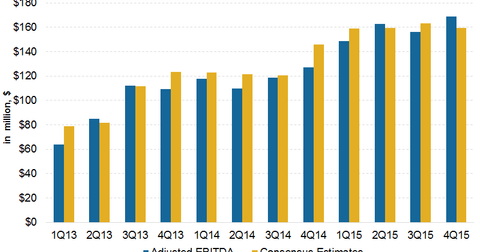 What Drove Breitburn Energy's 4Q15 EBITDA?
By Kurt Gallon

Updated
Breitburn Energy's 4Q15 EBITDA
Breitburn Energy Partners (BBEP) is an upstream MLP involved in crude oil, natural gas, and NGLs (natural gas liquids) exploration and production. It reported its 4Q15 earnings on February 26, 2016. Breitburn Energy's 4Q15 EBITDA (earnings before interest, tax, depreciation, and amortization) rose to $169.0 million from $127.4 million in 4Q14—a YoY (year-over-year) increase of 32.7%. Breitburn Energy's 2015 EBITDA stood at $636.8 million—compared to $473.8 million in 2014. The above EBITDA measures exclude the impact of impairment charges. Breitburn Energy recorded $878.3 million and $2,377.6 million in impairment charges in 4Q15 and 2015, respectively, due to the decline in commodity prices.
Article continues below advertisement
Breitburn Energy's peers, Memorial Production Partners (MEMP) and Legacy Reserves (LGCY) posted a YoY EBITDA decline of 0.8% and 30.2%, respectively, in 4Q15. Vanguard Natural Resources' (VNR) 4Q15 EBITDA is expected to remain flat—compared to 4Q14. Vanguard Natural Resources forms 3.37% of the First Trust ISE-Revere Natural Gas Index Fund (FCG).
Breitburn Energy beat its 4Q15 EBITDA estimate. For 4Q15, the consensus estimate was $159.3 million. The reported adjusted EBITDA stood at $169.0 million—a beat of 6.1%.
Breitburn Energy's 4Q15 EBITDA drivers
The YoY increase in Breitburn Energy's 4Q15 EBITDA was driven by the following factors:
Higher derivative instrument settlements
QRE merger completed in 4Q14
Lower pre-tax lease operating expense. The partnership's 4Q15 lease operating expenses fell to $17.74 per Boe (barrel of oil equivalent) from $21.77 per Boe in 4Q14.
Lower general and administrative expenses
The above increase was offset by a decline in the sales revenue due to the fall in commodity prices. Breitburn Energy recorded an average realized sales price of $26.7 per Boe in 4Q15—compared to $48.9 per Boe in 4Q14.
Breitburn Energy's 4Q15 distributable cash flow
Breitburn Energy's distributable cash flow for 4Q15 was $65.5 million—compared to $43.9 million during 4Q14. This was a YoY increase of 49.2%. Breitburn Energy suspended its monthly distributions to common unitholders at the end of last year. As a result, the partnership expects to save $111 million in 2016.