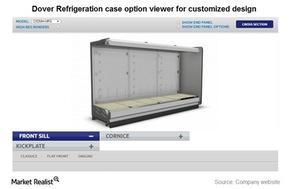 Dover Refrigeration & Food Equipment: Keeping It Cool
Hill Phoenix rises from the cold
Dover Corporation's (DOV) Refrigeration & Food Equipment unit is a major provider of refrigerated display cases and kitchen equipment such as cookers, mixers, braising pans, and packaging and processing solutions for the meat and poultry business. More than three-quarters of the segment's sales are earned by refrigeration, mostly through the Hill Phoenix brand.
Supermarkets, big-box retailers (RTH), and convenience stores together constitute the bulk of Hill's customers. The company's competitors in the segment are Standex International (SXI), Lennox International (LII), and Hussman International, which was recently acquired by Panasonic (PCRFY). Apart from being a recognizable brand and enjoying the scale benefits from being the market leader, we do not see any discernible competitive advantages in this segment.
Article continues below advertisement
Dover Refrigeration: Feasting with our eyes
Refrigerated displays capitalize on the industry phrase, "Customers eat first with their eyes." Supermarkets and convenience stores place food products in attractive arrangements to entice customers and drive the display's appeal. The type of display units varies with the customer classification and the type of products sold.
For example, small and medium-sized stores are more likely to opt for less expensive plug-in refrigerator cabinets rather than standalone remote units. Similarly, vertical cabinets are preferred by small stores, as they occupy less floor space compared to the horizontal units.
Drivers: Lifestyle trends
The demand for refrigerated display cases is being driven by rising customer preference for frozen and convenience foods and the expanding network of retail (XRT) stores. Consumers prefer frozen foods to made-from-scratch meals due to lifestyle changes and time constraints. The increase in disposable incomes, as well as increasing numbers of women in the workforce, especially in emerging markets, continue to aid these trends.