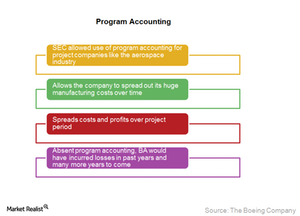 What Is Boeing's Program Accounting Issue About?
By Ally Schmidt

Feb. 19 2016, Updated 10:07 a.m. ET
What is program accounting?
Boeing (BA) uses program accounting, a technique that allows the company to spread out its huge manufacturing costs over time by cutting the cost per plane in the early stages of a project, and smoothening profit margins over time.
The SEC allowed the use of program accounting for project companies like the aerospace industry, which incur huge initial costs while designing aircraft and starting up assembly lines. As sales grow over time and manufacturing becomes more efficient, the costs fall, and profitability rises.
Under program accounting, instead of recording all costs up front and incurring big losses, costs are spread out over the period the project is expected to last—a period that can extend for decades. Thus, the profits are spread out over the project period.
Absent program accounting, Boeing (BA) would have incurred huge losses in recent years and more years to come, given its huge Dreamliner development costs.
Article continues below advertisement
Dreamliner accounting issues
Boeing has delivered about 363 Dreamliners over the past three years and it has orders for 779 more. However, the company has noted that it expects to garner orders of 1,300 Dreamliners, which for some is a bit optimistic. In program accounting, the method could go wrong if a company either initially overestimates the number of airplanes it plans to sell or its costs are significantly higher than planned.
In Boeing's case, both scenarios look possible. The company has already overshot its budget for the 787 and has incurred $28.5 billion in expenses for building it. Thus, if it fails to sell 1,300 787s or if it reduces its expenses, it could incur a hefty loss.
In fact, Boeing has more than $30 billion in deferred production and tooling costs that it has not yet charged against its income statement.
747 accounting issues
Boeing (BA) has already recorded losses of $2.6 billion in its 747 jet program. This includes the $569 million loss recorded in 4Q15.
For Boeing to achieve its current profitability estimate on the program, it would have to sell 35 more 747-8 jets. This seems a tall order given the past order book track record. Boeing has managed to receive only 121 747 orders since 2005 and only two orders in the past two years—both of which were bought by BA itself in a leaseback deal.
Boeing has also warned that it might face about $9.7 billion in charges for the 787 and 747 programs if it cannot sell more of both aircraft.
Boeing (BA) is the second-largest defense contractor in the US behind Lockheed Martin (LMT). BA is followed by Raytheon (RTN), General Dynamics (GD), and Northrop Grumman (NOC). Boeing forms ~5.7% of the Dow Jones Industrial Average ETF's (DIA) portfolio.