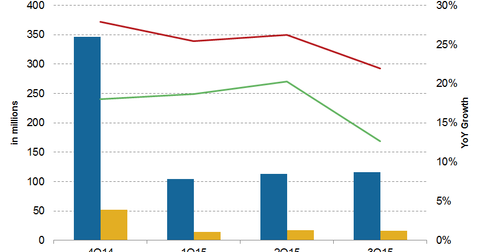 What Do Priceline's Key Metrics Suggest?
By Ally Schmidt

Updated
Gross bookings grow
Gross bookings is a metric used to measure the total value of all travel services purchased by customers. On a constant dollar basis, gross bookings have shown robust growth.
However, the strong US dollar has played spoilsport. For the last three years, gross bookings have grown at an average of 30%.On a constant currency basis, for the first nine months of 2015, gross bookings have grown by 25%. However, accounting for the strong US dollar, growth is just 10%.
Article continues below advertisement
Accommodation business
The majority of this growth has come from Priceline's (PCLN) accommodation business. The importance of the business can be understood from the fact that its largest brand, Booking.com, is the world's largest accommodation site.
Hotel room nights sold has grown by ~28% in 2014 and continues its strong growth of 25% in the first three quarters of 2015. Property count has increased by 41% in 2015 to 846,000 as compared to 600,000 in 2014. As more people shift to online booking, PCLN's accommodation business is expected to get stronger.
Rivals Expedia (EXPE), TripAdvisor (TRIP), and Ctrip (CTRP) have reported high growth in gross bookings from hotels.
Rental car days
Priceline's (PCLN) rental car business continues to grow too, albeit at a slower pace. For the first nine months, rental car days grew by 17% year-over-year. Rental car days accounted for ~12% of the total bookings.