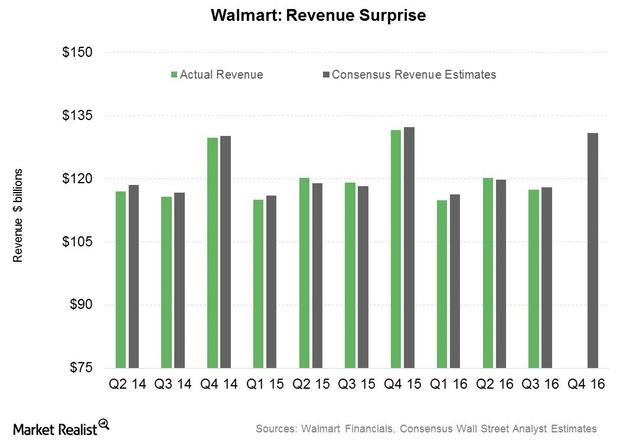 Why Foreign Currency Headwinds Have Hurt Walmart in Fiscal 2016
Fiscal 2016 recap: The headwinds and tailwinds affecting Walmart's results
Walmart's (WMT) reported sales of $352.5 billion in the first three quarters of fiscal 2016[1. Fiscal year ended January 31, 2016], a decline of 0.5% year-over-year. However, sales rose 3.1% in constant currency terms. Adverse foreign currency movements due to an appreciating US dollar reduced Walmart's top line by $12.3 billion in the last three quarters.
Article continues below advertisement
Performance drivers
But Walmart's sales performance was boosted by its Walmart US segment. Sales rose to $216.9 billion in the first three quarters of the year, up ~4% year-over-year. An increase in the net new store count, higher store traffic, and higher e-commerce sales were mainly responsible for the increase in overall sales. Walmart's US sales enjoyed a tailwind from lower prices at the pump and rising consumer employment and incomes, as did low-cost rivals Dollar General (DG) and Dollar Tree (DLTR).
Walmart's adjusted earnings per share or EPS came in at $3.13 in the first nine months of fiscal 2016, a decline of 9.5% year-over-year. Earnings were negatively affected to a large extent by higher employee costs due to announced wage increases for associates, digital investments, and more-than-expected shrink levels. Improved margins resulting from the company's merchandise mix partially offset these disadvantages.
Market expectations
Walmart's missed Wall Street analyst consensus estimates for both revenue and adjusted EPS in two of the last three quarters. Target (TGT), on the other hand, which exited its Canada operations last year, beat Wall Street revenue consensus in all three quarters of fiscal 2016. It also beat EPS estimates in two of the three quarters. In 3Q16, TGT's adjusted EPS were in line with the market consensus. Target is scheduled to report its fourth quarter results on February 24.
Walmart makes up ~2.8% of the SPDR Dow Jones Industrial Average ETF (DIA).
We'll analyze Walmart's profitability performance and expectations for the fourth quarter in the next part of this series.