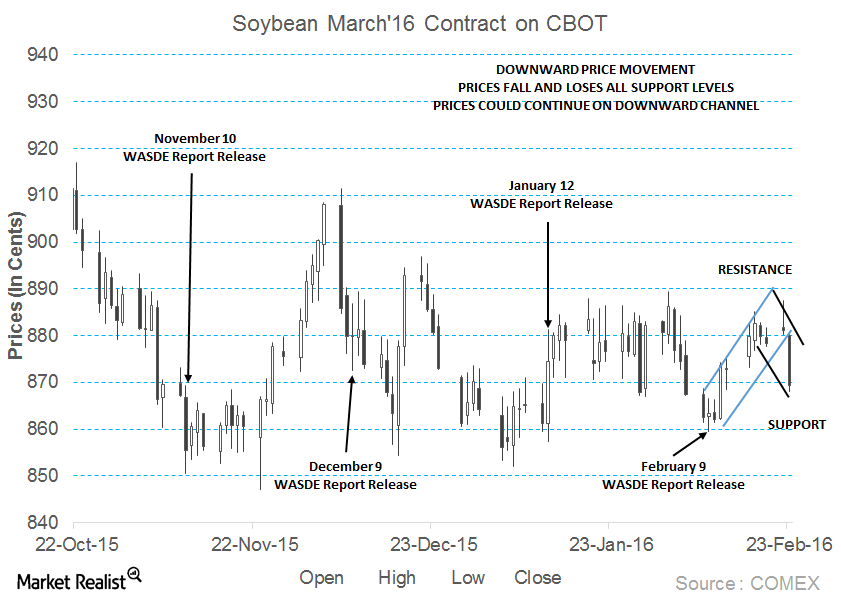 Soybean Prices Might Continue on the Downward Channel
Trend in soybean prices
March soybean futures contracts were trading near the support level of $8.70 per bushel on February 23, 2016. Prices fell for the second consecutive trading day. They hurt the progress of the upward movement. Prices are expected to fall in the near term. The volume fell by 26.5%. The open interest fell by 18.4% for the third consecutive trading day. Failure of the technical short covering hurt soybean prices on February 23, 2016. Prices lost the support levels of $8.80, $8.75, and $8.70 on the day. They traded below the 20-day, 50-day, and 100-day moving averages.
The above chart suggests that prices could be $8.80–$8.65 per bushel in the short term.
Article continues below advertisement
Price drivers
Favorable weather conditions in the South American soybean producing regions supported the output projections. In various institutes and private research, the consensus predicts larger soybean output from South America. Stronger competition cues in the export market had a negative impact on US soybean prices on February 23, 2016. The US dollar appreciated by 0.04% on February 23. It hurt soybean export cues. The higher dollar isn't favorable for the US export market.
Stocks review
Falling soybean prices hurt fertilizer shares. Producers' lower income hurts the prospects for fertilizer sales. Companies such as Martin Midstream Partners (MMLP) continued to fall by 6.2% after the previous day's rise of 5% on February 23, 2016. After rising for two consecutive trading days by 3.7%, Chemical & Mining Co. of Chile (SQM) fell by 2.3% on February 23, 2016. Syngenta (SYT) fell for the fourth consecutive trading day by 0.94% on February 23. It fell by 1.5% during the period. In contrast, CVR Partners (UAN) rose for the fifth consecutive trading day by 2.0% on February 23, 2016. The Material Select Sector SPDR Fund (XLB) fell by 2.5% with the fall in soybean prices. It continued the downward price movement. It was hindered by the previous day's rise.