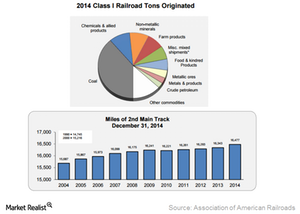 An Overview of the US Class I Railroad Industry
By Samuel Prince

Updated
US Class I railroad industry
In the US, while trucks operate in part on taxpayers' money, railroads are self-funded. Class I railroads in the US typically earn revenues by hauling coal and general merchandise. According to the Association of American Railroads, US Class I Railroads are line haul freight railroads. In 2014, their operating revenues were $475.75 million or more. These railroads are:
BNSF Railway
Union Pacific Railroad (UNP)
CSX Transportation (CSX)
Grand Trunk Corporation (CNI)
Kansas City Southern Railway
Norfolk Southern Combined Railroad Subsidiaries (NSC)
Soo Line Corporation (CP)
KSU forms part of the portfolio of the Guggenheim S&P 500 Equal Weight ETF (RSP), which holds 0.23% in the company. The ETF holds 0.61% in Class I railroads.
Article continues below advertisement
Freight mix
Coal forms a major freight source for all Class I railroads. However, with the fall in energy-related commodity prices and depressed demand, the coal volumes and revenues of all railroads dropped significantly during the last year.
The demand for general merchandise depends on the manufacturing activities. Demand is also driven by consumer spending and fuel prices. Railroads can be up to four times as fuel efficient than trucks. When fuel prices rise, freight transport is shifted from trucks to rail. Class I companies benefit from owning substantial miles of rail tracks that connect major cities and industrial hubs. The industry is highly capital-intensive, with maintenance capital expenditure claiming the highest share.
Trailer or container transport, also known as intermodal rail traffic, hauls consumer goods to trucks and ships. It does not involve unloading the freight between these modes of transport. In recent years, intermodal growth for all Class I railroads has brought some respite from the falling coal volumes.
Industry giants
With 32,754 route miles, BNSF Railway has the largest network in the US. Union Pacific ranks second with 31,974 miles of routes. These are the two major operators covering two-thirds of the Western United States. Both companies are competitors of Kansas City Southern (KSU), the smallest Class I railroad.