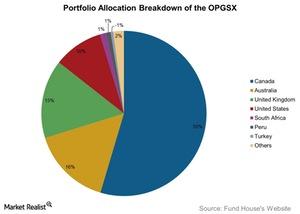 An Overview of OPGSX's Precious Metal Holdings
Portfolio structure
The Oppenheimer Gold & Special Minerals Fund – Class A (OPGSX), an alternative mutual fund, invests mainly in common stocks of companies that are involved in the mining and processing of gold, other metals, or minerals. As defined by its principal investment strategies, OPGSX may also invest up to one-fifth of its portfolio directly into gold or silver bullion and other precious metals. The fund was managing assets worth $708 million as of the end of December. The fund also invests in precious metals and related securities that are issued in countries other than the United States.
Article continues below advertisement
Asser-allocation breakdown
The country-wise portfolio allocation breakdown of OPGSX, as of the end of December, is given in the chart above. Almost one-half of the fund's net assets were invested in securities issued in Canada. Other major countries include Australia, United Kingdom, and South Africa. Only 9.7% of OPGSX's portfolio is invested in securities issued in the United States. Eldorado Gold (ECO), Goldcorp (GG), Randgold Resources (GOLD), Royal Gold (RGLD), and Agnico-Eagle Mines (AEM) are some of the top holdings of OPGSX. The First Eagle Gold Fund – Class A (SGGDX) is an alternative fund comprised of holdings similar to those of OPGSX and follows the same strategy.
The Oppenheimer Gold & Special Minerals Fund – Class A (OPGSX) is an open-ended pure equity fund. The fund had zero exposure to fixed-income debt instruments or any government securities. The top ten holdings of the fund form 44.6% of its portfolio. The fund had a net expense ratio of 1.2% including the management stated fee of 0.7%. In the next article of this series, we'll outline investment methodology of OPGSX in detail.