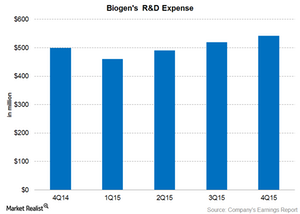 How Much Does Biogen Spend on Research and Development?
Research and development spending
Research and development (or R&D) is an integral part of the biotech industry. R&D is critical to paving the way for new drugs, which could ultimately increase the company's revenues. Biogen's (BIIB) R&D expenses for 4Q15 were $542 million, or 19% of its total revenue, including a $60 million payment to Mitsubishi Tanabe.
In comparison, the amounts spent on R&D by its peer Amgen (AMGN) totaled $1,057 million, or ~21% of its total revenue. Vertex Pharmaceuticals (VRTX) spent $204 million, or 50.8% of its total revenue, on R&D, and Celgene (CELG) spent $777 million, or ~30.3% of its total revenue, on R&D.
The above graph shows the amount spent on R&D by Biogen on a quarter-over-quarter basis. For fiscal 2015, the company's R&D expenses were $2 billion, or 19% of its total revenues.
Article continues below advertisement
Updates on Biogen's R&D pipeline
Aducanumab is an investigational drug for Alzheimer's disease that could significantly reduce amyloid plaque. In 1H16, Biogen expects to share the data from the ongoing titration arms of the Phase 1b of the drug.
E2609, a small molecule BACE 1 inhibitor that targets beta-amyloid, is developed with partner Eisai and continues to advance. Biogen expects to release the interim safety data this year.
Nusinersen, which is being developed with partner Ionis Pharmaceuticals (IONS), completed the enrollment of the Phase 3 CHERISH study in children with childhood-onset spinal muscular atrophy (SMA). Clinical trial data is expected in the first half of 2017.
Biogen presented a new set of data showing that Eloctate and Alprolix effectively managed the bleeding into joints and maintained low annualized bleeding rates in people with severe hemophilia A and B, reaffirmed the benefits of these two therapies.
The First Trust NYSE ARCA Biotechnology Index ETF (FBT) invests 3.8% of its portfolio in Biogen.