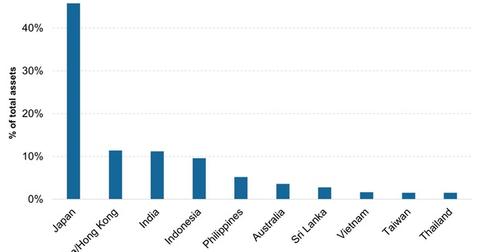 What You Should Know about the Matthews Asia Growth Fund (MPACX)
By David Ashworth

Updated
The Matthews Asia Growth Fund (MPACX)
The Matthews Asia Growth Fund (MPACX) invests at least 80% of its net assets in common and preferred stocks of companies located in Asia. According to fund documents, Asia includes "developed, emerging, and frontier countries and markets in the Asian region." The fund is managed by lead manager Taizo Ishida and co-manager Sharat Shroff.
Fund managers focus on picking companies that can grow sustainably, based on fundamental characteristics like balance sheet details, cash flow, management depth, product lines, and marketing strategies, among others. Generally, fund managers invest in medium- to large-size companies but retain the flexibility to invest in companies of any size.
Article continues below advertisement
Portfolio composition
MPACX's house data shows that consumer staples are the largest sectoral holding of the fund, making up 20.3% of the portfolio as of December 2015. Consumer discretionary and healthcare follow, representing a combined 33.6% of the fund's assets. Financials and information technology round off the top five invested sectors. The fund is not invested in telecom services or utilities.
Compared to its benchmark, the MSCI AC Asia-Pacific Index, the fund is substantially overweight the consumer staples and healthcare sectors, while being overweight the consumer discretionary sector. On the other hand, it's underweight all remaining sectors, with the biggest difference from the benchmark being in the financial sector.
The biggest shares
Japan commands MPACX's biggest share, making up 45.8% of the fund's portfolio. Companies from China and Hong Kong combined form 11.4% of the assets, followed closely by Indian equities, which make up 11.2% of the assets. Compared to the aforementioned index, the fund is underweight China and Hong Kong combined, Australian, Taiwanese, and South Korean equities while being overweight in Japanese, Indian, Indonesian, Philippine, and New Zealand equities.
Baidu (BIDU), Toyota Motor (TM), Nidec (NJ), Fanuc (FANUY), and Autohome (ATHM) were among the fund's 57 holdings as of the end of December. As of January 2016, the fund was managing assets worth just over $708.2 million.
Fee and minimums
The Matthews Asia Growth Fund Investor Class (MPACX) has been around since October 2003 and has a gross expense ratio of about 1.1%. The fund requires a minimum of $2,500 to invest, with $100 as the minimum additional investment.
Now let's check out at some key metrics of MPAXC's performance over the past year.