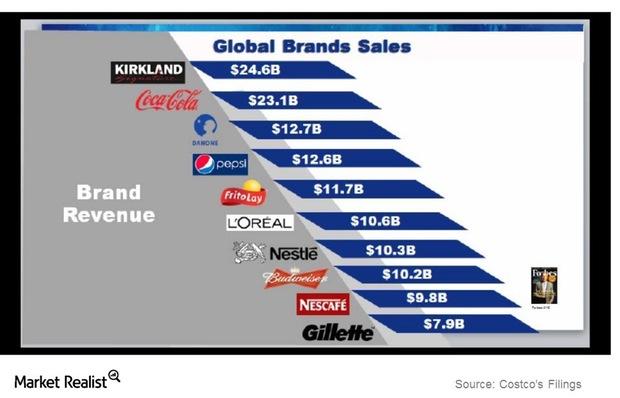 Kirkland Signature: Costco's Key Differentiator in Fiscal 2Q16?
Costco's traffic growth
As a result of rising membership renewal rates, Costco Wholesale (COST) has seen traffic growth averaging 4.3% per year in the period between fiscal 2009 and fiscal 2015. In fiscal 1Q16, which ended November 22, 2016, club traffic rose by 3.5% YoY (year-over-year). This compares to a decline of 1.4% for Sam's Club (WMT) in fiscal 4Q16.
In fiscal 2Q16, store (RTH) traffic trends appear to have been healthy. Costco reported traffic growth of 3.25% in December and over 3% in January, according to Jeffrey Elliot, Costco's Associate Vice President of Finance.
Article continues below advertisement
Article continues below advertisement
A key traffic growth driver has been the success of Costco's private-label brand KS (Kirkland Signature). Costco makes about $24.6 billion in global sales under this brand annually. According to Forbes, that's higher than annual brand sales for Danone (DANOY) ($12.7 billion) and Nestlé (NSRGY) ($10.3 billion) combined.
Products and channel enhancements
Costco's been steadily introducing new products under KS in categories as diverse as apparel, shoes, patio furniture, deli, fresh, hearing aids, beer, and organics. While Costco has positioned KS as a premium value-for-money brand, KS products are actually priced significantly lower than their brand-name counterparts.
A key growth driver for the brand has also been the success of KS's organics line, which reported sales of over $4 billion in fiscal 2015, up from about $3 billion the previous year. Costco is also actively using alternative delivery services like Google Shopping Express, InstaCart, Boxed, and Jet.com. International recognition for KS is also being built via the success of Costco's products on Alibaba's (BABA) Global Tmall site.
Costco is meanwhile planning to increase the penetration levels for KS by introducing new products and channels. Higher private-label sales are an important brand differentiator for the retailer, in addition to being a margins enhancer.
We'll discuss Costco's profitability outlook in greater detail in the next part of this series.