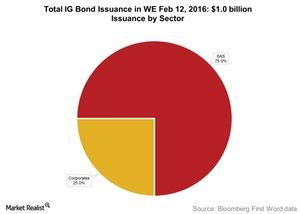 Who Issued the Most High-Grade Bonds Last Week?
By Lynn Noah

Updated
Deals overview
Only two deals got priced last week. Supranational, agency, and sovereign (or SAS) dominated the primary market for high-grade bonds in the week ended February 12, making up 75%, or $0.75 billion, of all issues. US corporates made up 25% of all issues.
The week ended February 12 brought the year-to-date issuance of high-grade corporate bonds to $182.6 billion.
Issuances by high-grade corporates form part of mutual funds like the Hartford Total Return Bond HLS Fund – Class IA (HIABX) and the TIAA-CREF Bond Index Fund – Retail Class (TBILX).
Article continues below advertisement
Details of Rentenbank's issue
Rentenbank is based in Frankfurt and is Germany's development agency for agribusiness. It issued high-grade bonds worth $750 million. The single-tranche Aaa/AAA-rated five-year floating rate notes were issued at a spread of three-month LIBOR + 35 basis points over similar-maturity Treasuries.
Details of Senior Housing Properties Trust's issue
Senior Housing Properties Trust (SNH) is a real estate investment trust (or REIT) that owns senior living communities, medical office buildings, and wellness centers throughout the US. SNH is managed by the operating subsidiary of the RMR Group (RMR). It issued high-grade bonds worth $250 million. The single-tranche Baa3/BBB-rated 30-year issue was raised at a coupon of 6.3%.
SNH expects to use the net proceeds from this offering to repay amounts outstanding under its revolving credit facility and for general business purposes.
Meanwhile, in the previous week, Home Depot (HD) issued high-grade bonds worth $3.0 billion, Starbucks (SBUX) issued high-grade bonds worth $500 million, and Praxair (PX) issued high-grade bonds worth $275 million.
In the next article, we will look at investment-grade bond fund flows.