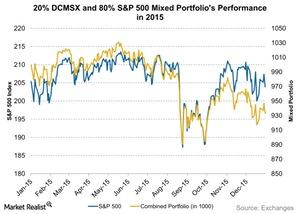 Could Investing in DCMSX Help Your Portfolio?
By Ivan Kading

Nov. 20 2020, Updated 1:32 p.m. ET
Falling commodity market
Falling crude prices, slowness in China's economic growth, and high supply and low demand for commodities in Asia were some of the primary reasons for the commodity market's slump in 2015. Even 2016 has been witnessing a decline in the commodity market. The DFA Commodity Strategy Portfolio – Institutional Class (DCMSX) is an alternative mutual fund that has suffered due to its commodity real return strategy. The Bloomberg Commodity Index fell by more than 4% between December 31 and January 22, 2015.
Article continues below advertisement
Increased volatility, reduced returns
The graph above analyzes the effect of adding DCMSX to the S&P 500 (VFINX) portfolio.The addition of DCMSX caused the portfolio to give reduced returns. The commodity exposure also increased the overall volatility of the portfolio.
The DCMSX portfolio is divided into two parts. One part of the portfolio consists of fixed income bonds such as JPMorgan Chase (JPM), American Express (AXP), Philip Morris International (PM), and The Walt Disney Company (DIS). The other part consists of future and forward contracts of different commodity-linked investments.
Conclusion
Alternative funds are risky options as they make use of popular hedge funds to fulfil their investment objectives. Commodity funds are facing the heat of the global economic slowdown in the commodity markets. It has already resulted in the closure of some hedge funds. An investor should correctly understand his or her risk-taking capability before deciding to invest in such high-risk funds. A different alternative fund, The Gateway Fund – Class A (GATEX), uses the traditional market neutral hedge fund strategy for achieving its investment objectives. Read our series on The Gateway Fund – Class A for a detailed study of its investment methodology.