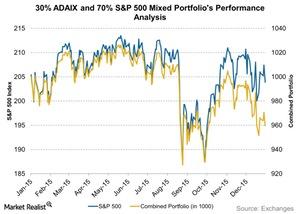 How Investing in ADAIX Could Impact Your Portfolio
By Ivan Kading

Dec. 4 2020, Updated 10:52 a.m. ET
Merger arbitrage
Alternative funds using a diversified arbitrage strategy can help with additional portfolio diversification. Alternative mutual funds aggressively use hedge fund strategies to achieve their investment goals, which considerably reduces sensitivity to US equity markets. Thus, these funds may help reduce the overall risk in one's portfolio while increasing its profit-making potential. On the other hand, these funds are the riskiest asset class currently available.
Article continues below advertisement
The AQR Diversified Arbitrage Fund – Class I (ADAIX) is one such alternative fund that extensively uses the diversified arbitrage strategy to achieve its investment goals. The top long holdings of the fund include stocks such as Tempur Sealy International (TPX), T-Mobile US (TMUS), and Garnero Group (GGAC). The fund also holds futures contracts of the E-Mini S&P 500 Index (VFINX), which is comprised of stocks such as Apple (AAPL), Amazon (AMZN), and Microsoft (MSFT). The chart below compares the performance of a portfolio with a 30% weight in ADAIX and a 70% weight in the S&P 500 with that of the S&P 500 Index's performance itself.
Reduced returns
The addition of the ADAIX had resulted in negative returns for its investors. The portfolio suffered the most at the end of 4Q15. Investors should understand their risk-taking capabilities before investing in such risky alternative funds.
Conclusion
A merger arbitrage strategy seeks to gain from arbitrage opportunities that exist when a merger between two or more companies takes place. The event-driven strategy involves various corporate actions where very similar assets begin to trade at different prices. The convertible arbitrage strategy involves convertible securities. By combining these three strategies, the fund aims to generate profit for the investor at a minimal risk. Similarly, different alternative funds are designed for different investment goals.
To read more about alternative funds, you can read our series on the PIMCO Commodity Real-Return Strategy Fund (PCRIX), which makes use of the commodity return hedge fund strategy to generate returns.