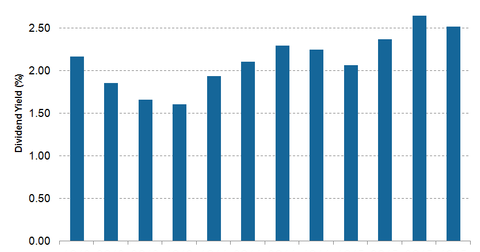 How Program Accounting Can Affect Boeing
By Ally Schmidt

Updated
Possible outcomes
Program accounting is a complex method with many grey areas that involves many projections for long time periods. These projections can go wrong despite being made by honest, skilled managers, with projections that can be justified using many historical events and explanations. Thus, it could be difficult for the SEC to prove that Boeing (BA) engaged in any wrongdoing. The most optimistic outcome would be that Boeing wins the case, due to any of the above-mentioned reasons.
The most negative outcome would, of course, be that BA's projections are proved wrong and it has to write off a significant amount of investments, thus incurring hefty losses. In this case, analysts would also end up revising their future cash flow estimates.
Another possible outcome can be BA settling with the SEC, which would again be negative for the company.
Article continues below advertisement
More volatility ahead
Regardless of the outcome, this means that Boeing stock could be headed for high volatility, especially in the short term and especially in 2016.
Do not forget the significant cash flows
At the end of 2015, cash on Boeing's balance sheet stood at $12.1 billion. For 2015, Boeing generated strong operating cash flows of about $9.4 billion as compared to $8.9 billion in 2014. Free cash flow for the year stood at $6.9 billion. Its robust cash generation was driven by higher deliveries, solid core operating performance, and disciplined cash management.
A hefty dividend yield
Boeing's (BA) current dividend yield stands at 3.71%. This is higher than the industrial average dividend yield of 2.7%. This is currently the highest among its peers. Airbus has a yield of 2.13% and Embraer's (ERJ) yield is 0.09%. Lockheed Martin (LMT) has a dividend yield of 3.16%, United Technologies' (UTX) yield is 2.95%, and General Dynamics (GD) has a dividend yield of 2.21%.
You can also read a complete overview of Boeing in The Boeing Company: Filing a New Flight Plan for 2015. Boeing (BA) forms ~8% of the iShares US Aerospace & Defense ETF (ITA).