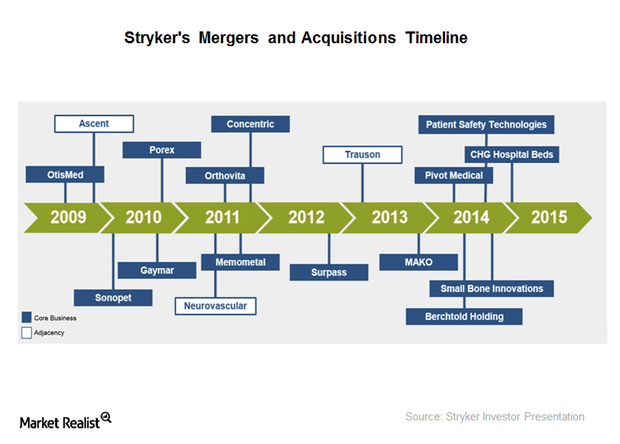 Growth and Profitability: How Does Stryker Do It?
Recent acquisitions
Between 2012 and 2014, Stryker (SYK) entered into a number of mergers and acquisition deals, investing ~$3.4 billion. The company continues to expand its portfolio of complementary and innovative products through inorganic growth strategies and strategic acquisitions.
On February 1, 2016, Stryker acquired Sage Products, a manufacturer and distributor of disposable products used in intensive care units and hospitals, for an all-cash deal of $2.8 billion. The acquisition is expected to result in ~$500 million in tax benefits and increased cash flows for more than 15 years. With an aim to strengthen its hospital sector offerings, Stryker agreed to acquire Synergetics USA's neurology portfolio on February 10, 2016.
Article continues below advertisement
Robot–assisted surgery
Stryker is a leading player in the orthopedics device market and holds a best-in-class portfolio of hip and knee implants. Total knee implants and hip systems are some of its more successful and established products. MAKO Surgical's robotic technology provides an opportunity for Stryker to gain market share and boost demand.
European growth strategy
Stryker offers a diversified product portfolio with a range of more than 60,000 products and services, with a focus on providing quality outcomes at lower costs through partnerships and collaborations with physicians and hospitals.
In 2015, Stryker established a transatlantic operating model to restructure and reorganize its European operations and leverage under-tapped growth opportunities in Europe. The company established regional headquarters in Amsterdam and has made significant investments in sales and marketing in order to drive its sales in the region.
Emerging market expansion
In 2015, Stryker acquired Trauson Medical Instrument, a leading Chinese trauma manufacturer with a strong presence in the spine segment. The company aims to establish similar business models in other emerging markets such as India and Brazil and expand its international presence.
Other major players implementing various strategies and initiatives to expand their emerging market portfolios include Johnson & Johnson (JNJ), Becton, Dickinson and Company (BDX), and Medtronic (MDT). The Vanguard Dividend Appreciation ETF (VIG) has an exposure of ~0.95% to Stryker.