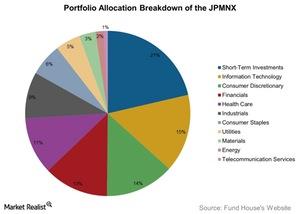 A Detailed Analysis of JPMNX's Low-Volatility Holdings
By Ivan Kading

Dec. 4 2020, Updated 10:53 a.m. ET
Market neutral strategy
The JPMorgan Research Market Neutral Fund Institutional Class (JPMNX) seeks to provide long-term capital appreciation from a broadly diversified portfolio of US stocks (VFINX) while neutralizing the general risks associated with stock market investment.
In order to achieve its investment objective, the fund primarily makes use of a "market neutral" hedge fund strategy, which means that it takes both long and short positions in various indices or stocks and seeks profit from both increasing and decreasing prices. (A "long position" refers to entering into a contract to buy a particular asset at a future date with the expectation that the asset will rise in value. A "short position" is the opposite of a long position, wherein the expectation is bearish.)
The graph below gives a sectoral holding breakdown of JPMNX as of the end of December 2015.
Article continues below advertisement
Portfolio breakdown
The graph above shows only the long sectoral holdings of the fund. Apart from the fund's long positions, the fund's portfolio is also made up of short holdings in the financial, IT (information technology), and healthcare sectors, amounting to 16.3%, 14.8%, and 13.2%, respectively, of the fund's total assets.
As of December 31, 2015, JPMNX was managing assets worth $564 million. The fund's top short holdings include Verizon Communication (VZ), Johnson & Johnson (JNJ), Cisco Systems (CSCO), and Duke Energy (DUK), among others. The fund's top ten long holdings represent 20.4% of its whole portfolio, whereas the top ten short holdings make up 18.3%.
In the next part, we'll compare the historical NAV (net asset value) performance of JPMNX with those of its peers.