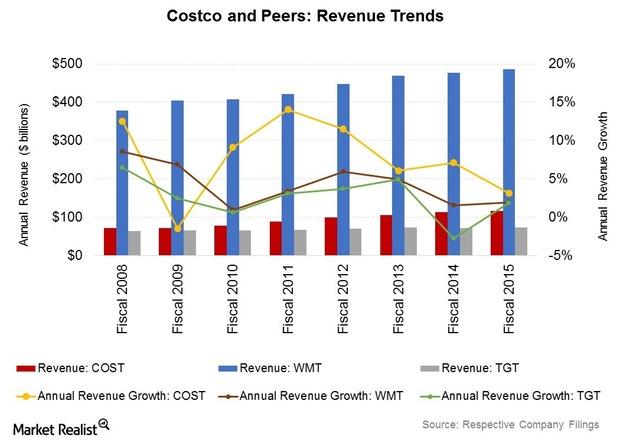 Costco's Revenue Growth Likely to Moderate in Fiscal 2Q16
Costco's record fiscal 2015 results
In fiscal 2015, which ended August 30, 2015, Costco Wholesale (COST) posted record results. Revenue grew by 3.2% to $116.2 billion, while the company's net income rose by 15.5% to $2.4 billion. Membership renewal rates hit all-time highs, coming in at 91% in the US and Canada, and 88% worldwide.
Together, Costco, Wal-Mart Stores (WMT), and Target (TGT) make up 6.3% of the portfolio holdings in the Vanguard Dividend Appreciation ETF (VIG).
Article continues below advertisement
Costco's fiscal 1Q16 earnings analysis
However, Costco's results in fiscal 1Q16 disappointed markets, perhaps due to heightened expectations following the strong fiscal 2015 earnings. The retailer missed consensus Wall Street analyst expectations on both revenue and adjusted EPS (earnings per share).
In fiscal 1Q16, which ended November 22, 2015, Costco's revenue rose by 1.3% YoY (year-over-year), driven by 26 net new warehouse openings, including 13 in the US. Comparable warehouse sales were down by 1%, however, due to the impact of gasoline price deflation and the forex (foreign exchange) impact of the rising US dollar. Excluding the impact of falling gasoline prices and changes in exchange rates, comparable warehouse sales were up by 6%.
Costco's adjusted EPS came in at $1.09 in fiscal 1Q16, a 2.7% YoY decline. Adverse foreign exchange movements reduced EPS by $0.10 per share. By contrast, same-store sales came in at 2.1% for Dollar Tree (DLTR), 2.3% for Dollar General (DG), and 2.6% for Big Lots (BIG) in the last quarter.
Gasoline attractor
But that said, Costco's gasoline traffic is a valuable store traffic driver for the retailer. The company clocked $10.4 billion in fuel sales in fiscal 2015, with gallon volume up 15%. GasBuddy ranked Costco the number one value brand in 2016, with a price difference of about 19.8%.
Let's check out Costco's sales drivers for fiscal 2Q16 in the next part.