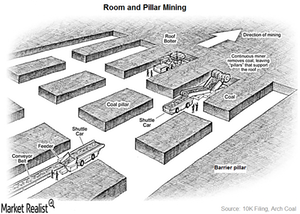 How Is Coal Mined in the US?
By Sheldon Krieger

Feb. 9 2016, Published 2:48 p.m. ET
Underground coal mining
Underground coal mining is the best method when the coal seams are deeper inside the earth and incline steeply. According to the World Coal Association, the two main underground mining methods in the US are:
room and pillar
longwall mining
Article continues below advertisement
Room and pillar mining
In room and pillar mining, panels are developed by cutting the coal seam in the form of pillars. There are two kinds of pillars in each panel:
panel pillar
barrier pillar
In each panel, a large quantity of coal is left in the form of a barrier pillar to support the panel in the event of a progressive collapse of panel pillars. Coal is extracted from the mining face using continuous mining equipment. Panel pillars are formed as the mining face advances. Occasionally, coal trapped in panel pillars is extracted while retreating from the mining face to increase the recovery. The room and pillar method of mining is generally followed in thin coal seams.
According to the West Virginia Coal Association, coal recovery in room and pillar mining ranges between 40-60% of coal in a given seam and reserve. In contrast, coal recovery in the retreating room and pillar mining varies between 70-80% of coal in a given seam.
Longwall mining
Longwall mines are generally larger than room and pillar mines. Artificial hydraulic supports are used to support the roof instead of leaving intermediate panel pillars. The longwall mining method is followed when the coal seam is thick, uniformly flat, and free of discontinuities such as faults. According to the World Coal Association, coal recovery in longwall mining in the US is more than 75%.
Among the top four coal (KOL) producers in the US, Peabody Energy (BTU), Alpha Natural Resources (ANRZQ), and Arch Coal (ACIIQ) own and operate both opencast and underground mines. Cloud Peak Energy's (CLD) entire production comes from opencast mines.
In the next part of this series, we'll learn about the land ownership pattern in the US and its significance for applicable mining laws.