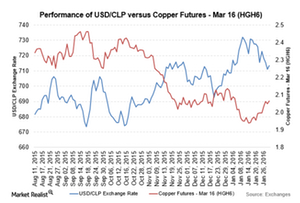 Chilean Peso Falls on Weak Economic Data
By David Meyer

Feb. 1 2016, Published 9:08 a.m. ET
Chilean peso falls as copper production contracts
The Chilean peso depreciated against the US dollar on January 29, 2016, as reports indicated that copper production fell 5.5% on an annual basis in December 2015 against growth of 1.7% in November.
The Chilean economy is heavily dependent on the export of copper to other countries, and a drop in the metal's production led to short positions in the Chilean peso, which has a high correlation with copper prices globally.
Article continues below advertisement
Industrial and manufacturing production report falls
The Chilean peso was also trading negatively following a fall of 3.3% in industrial production on an annual basis in December 2015 compared to a rise of 0.6% in November.
On a similar note, manufacturing production contracted by 2.8% on an annual basis in December, a bigger fall than November's fall of 0.2% and higher than consensus estimates of 1.7%.
Retail sales grow at a slower pace
Retail sales rose by 1.9% on an annual basis in December, a slower rise compared to growth of 5.5% in the previous month and forecast growth of 3.3%. On a monthly basis, however, retail sales fell by 1.5% in December against a rise of 4.0% in November, further weighing on the value of the Chilean peso.
On the other hand, the unemployment rate fell to 5.8% in December, lower in comparison to November's 6.1%.
Impact on the market
The iShares MSCI Chile Capped ETF (ECH) rose by 3.5% on January 29, 2016, even as the Chilean peso was trading weaker. The iShares Latin America 40 ETF (ILF) followed a similar trajectory and rose by 5.5%.
Chile-based ADRs (American depositary receipts) were performing on a positive note. Enersis (ENI) was trading on a higher note, with a rise of 3.9% at the end of the day, while Empresa Nacional de Electricidad (EOC) rose by 3.2%. Finally, Banco de Chile (BCH) rose by 3.3% on January 29, 2016.