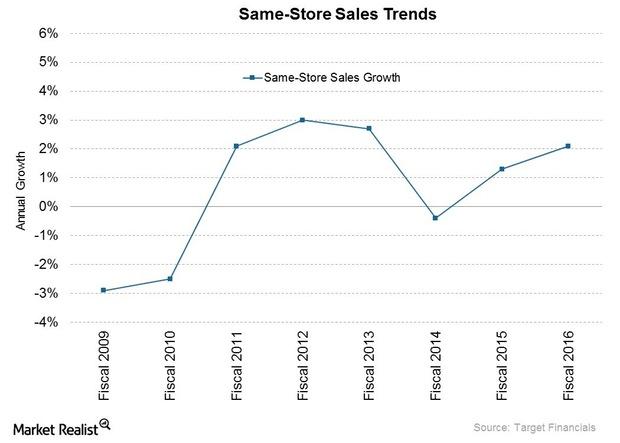 Analyzing Target's Same-Store Sales Growth in Fiscal 2016
Target reports strong store comps on traffic growth
Target (TGT) had upbeat revenue performance in fiscal 4Q16 and 2016. Store traffic was up by 1.3% YoY in fiscal 2016, trending in positive territory in all four quarters of the year. Revenue came in at $73.8 billion, up by 1.6% year-over-year. Excluding the impact of the sales of the pharmacies to CVS Health (CVS), which closed in December 2015, revenue growth would have been higher.
Target's fourth quarter sales (FXD) came in at $21.6 billion, down by 0.57% YoY, also due to the impact of the sale of its pharmacy business.
Article continues below advertisement
Same-store sales analysis
Target (TGT) reported same-store sales growth of 2.1% in fiscal 2016, around the middle of the company's guidance range of 1.5%–2.5%. Store comps came in at 1.9% in the fourth quarter, at the high end of the company's guidance range of 1.5%–2.0%. More importantly, the retailer's prioritized categories of Baby, Kids, Wellness, and Style grew over 3x the average comps in the fourth quarter.
Target had a good holiday season. The retailer's toys category posted double-digit comps growth in 4Q16 for the third straight quarter. The Home Goods category posted a 4% comps increase in fiscal 2017, the largest annual increase in over ten years. However, Target's Electronics category was challenged, apart from the Wearables segment. Secular industry-wide softness in the category affected Target's performance, based on comments by Brian Cornell, Target's CEO.
In contrast, Walmart (WMT) posted comps growth of 0.6% in its Walmart US segment. Dollar Tree (DLTR) and Dollar General (DG), which are due to declare their fourth quarter earnings in March, are expecting to post fiscal 2016 comps growth as follows:
Dollar General: 2.5%–2.8%
Dollar Tree: low single-digit rate
REDcard penetration
Target also raised the usage rate of its private-label credit card, REDcard. Excluding pharmacy and clinic sales, REDcard penetration was up to 23.5% in fiscal 4Q16, up from 21.9% in fiscal 4Q15
Holiday and digital performance
Target's quarterly and annual sales performance were boosted by the upbeat results from Target's digital channel and the 2015 holiday season. E-commerce sales were up by 34% YoY in fiscal 4Q16 and up by 31% for the year.
The next article discusses the company's digital performance in greater detail.