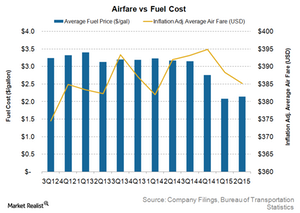 Will Airfares Continue to Decline in 2016?
Airline fares decline by 5%
In hindsight, 2015 was the year of aggressive capacity expansions and falling utilizations. Such a situation usually results in price wars, which was the case in 2015.
According to a study by Expedia with help from Virginia-based Airlines Reporting Corp., industry-wide airfares fell by about 5% in 2015. Despite this decline, passenger complaints are on the rise. Many consumer leaders also lobbied for airfare reductions.
The prime reason for this dissatisfaction is that the decreasing airfares don't seem to be in line with the decreasing costs for airline companies. Airlines across the industry are forecasted to make higher-than-forecast record profits in 2015 due to large savings from the oil price drop.
Article continues below advertisement
What can we expect in the upcoming year?
When fuel prices fall, it is not immediately reflected in airfares. However, if fuel prices stay down long enough, airlines may eventually have to pass on the benefits to its consumers.
For now, the chances of airfares falling during the year look bleak. On the contrary, major carriers such as Delta Air Lines (DAL), Southwest Airlines (LUV), American Airlines (AAL), United Continental Holdings (UAL), and JetBlue Airways (JBLU) have started the year with an airfare hike of about $3 per one-way ticket.
With the extra amenities being added, such as extra baggage allowances, airfares are expected to go up. However, we can expect airlines to offer better amenities such as upgraded airport lounges, renovated aircraft interiors, and more lie-flat seating for its passengers, especially in first and business class.
Investors can gain exposure to airlines through the PowerShares Dynamic Leisure & Entertainment Portfolio ETF (PEJ), which invests ~27% of its portfolio in airline stocks.