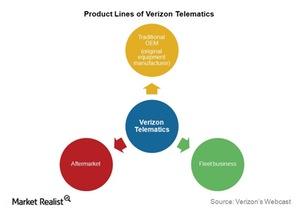 Verizon Telematics: The Product Offerings
By Ray Sheffer

Jan. 18 2016, Updated 8:06 a.m. ET
Verizon's telematics offerings
During the recent Citi Internet, Media & Telecommunications Conference on January 6, 2016, Verizon's (VZ) executive vice president and president of Product Innovation and New Businesses, Marni Walden, talked about the company's telematics business. This is a small but growing component of the telecom company.
Walden said that "we have our entire Verizon telematics business, which really is IoT, and in that space, we have three key business lines or product lines, if you will. The first is traditional OEM, so that's the work that we do with Mercedes and Toyota." She added that "the second part of our telematics business is aftermarket and this started with our relationship with State Farm, but this was usage-based insurance." She stated that "the third part of our telematics line is our fleet business and so network fleet, we do asset tracking, fuel management, idle time, maintenance."
In regards to the aftermarket category, she mentioned Verizon's hum, the company's aftermarket connected vehicle offering, which was initiated in 4Q15.
Article continues below advertisement
Performance of Verizon Telematics
In the first nine months of 2015, Verizon's IoT (Internet of Things) and telematics revenue was ~$495 million. In terms of sequential growth, this revenue stream grew by ~6.1% to reach ~$175 million during 3Q15. Earlier in 2Q15, the sequential growth was ~6.5%. During 2014, Verizon's IoT and telematics revenue increased by ~45.2% YoY (year-over-year) to ~$585 million.
You may consider investing in the iShares US Telecommunications ETF (IYZ) for diversified exposure to Verizon. The telecom company made up ~10.3% of IYZ at the end of November 2015. IYZ held a total of ~18.6% in AT&T (T), T-Mobile (TMUS), and Sprint (S) as of the same date.