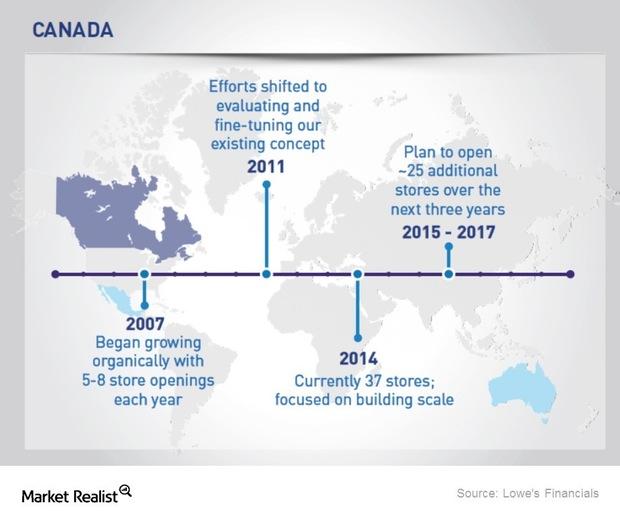 What Are Lowe's Opportunities and Key Threats?
Key opportunities for Lowe's
The greatest opportunity for Lowe's (LOW) perhaps lies in fully leveraging the omni-channel (XLY) model. Several firms with online-only models including Wayfair (W) are growing sales at an exponential pace. Wayfair posted sales of $1.3 billion last fiscal year, a growth rate of 44% year-over-year.
Article continues below advertisement
Small-format stores
Another vital opportunity lies in expanding the retail footprint of the small-format store, particularly in urban areas, as discussed in part nine of this series. A number of competitors are testing the concept including IKEA. Big box retailers like Home Depot (HD) and Lowe's have typically stayed away from urban centers in part due to the economics. Smaller stores in urban areas might be a way for Lowe's to capture a greater share of the market, particularly as Home Depot has no plans to enter the space.
International growth
Lowe's is also looking to expand internationally in Canada and Mexico as discussed in part 14 of this series. This represents an opportunity for the retailer to diversify its revenue stream geographically and also participate in the growth upside presented by the inherent economic opportunities.
Threat of currency movements
However, in the near term, Lowe's will also be subject to macro risks due to the appreciating US dollar, which is impacting its reported revenue stream from both Canada and Mexico. Expansion of operations in these two countries may exacerbate currency issues.
Key threats from online retailers like Amazon (AMZN) and Home Depot's omni-channel model remain paramount. Amazon (AMZN) has also entered the business-to-business (or B2B) space with some of the merchandise assortment overlapping Lowe's.
LOW and HD together constitute 2.3% of the portfolio holdings in the First Trust Consumer Discretionary AlphaDEX (R) Fund (FXD).